Men Need
Check-Ups, Too
Peter Criss, drummer and founding member of the rock band KISS, recently went public with his battle against breast cancer. People don't associate men with the disease, but men have breast tissue, too, and they are susceptible to breast cancer. Keep reading and then encourage your loved ones -- male and female -- to get screened for the potentially deadly disease.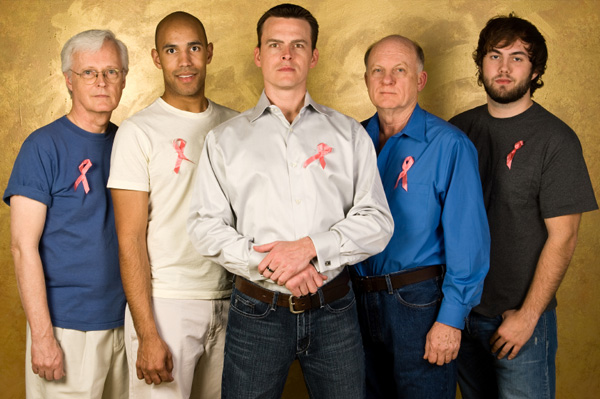 Men and women need to be proactive
Even though breast cancer is rare in men, the disease is no less deadly for the male population. Men and women need to practice regular self-checks to become aware of changes, such as lumps. Mammograms and sonograms can detect breast cancer before a lump is even noticeable. Men and women who are at high risk for breast cancer should have an annual screening to catch breast cancer while it is in its earliest stages. Not all lumps and breast tissue changes are breast cancer, but even benign breast conditions should be checked by a health professional to rule out other health issues. Awareness and early detection are crucial for men and women — making this October, National Breast Cancer Awareness month — a reminder for all adults to be proactive.
Breast cancer easier to detect in men
Although breast cancer is easier to detect in men, since an asymmetrical lump in the male breast is more apparent, many men ignore symptoms, which can include lumps, pain in the breast or discharge from the nipples. This means men are also diagnosed at later stages of breast cancer, when treatment is more rigorous and potentially not as successful.
Peter Criss, KISS drummer and founding member, is getting the word out that men can get tested for breast cancer and still be macho. Now cancer-free, the 63-year-old was treated in 2008 before his tumor could spread. Because the cancer had been caught early, Criss did not need breast reconstruction or chemotherapy.
"Don't sit around playing Mr Tough Guy," Criss told CNN. "Don't say, 'It's going to go away.' It might not and you might not see life anymore and how beautiful that is."
Breast cancer support for men
Among men, it is estimated that of 1,910 new breast cancer cases in the US in 2009, 440 of them will be fatal. For women, the case numbers are much higher. Approximately 192,370 women in the US were diagnosed with breast cancer this year and about 40,170 are expected to die of the disease in 2009, the National Cancer Institute reports.
Since the numbers are relatively small, men who have breast cancer may feel isolated. Nancy Nick established the John W Nick Foundation in 1996, in memory of her father who died of breast cancer, as a support network for male breast cancer survivors.
Be aware of changes
The risk of breast cancer increases with age, family history, and lifestyle factors, but regardless of risk, men and women should know what is normal for their breasts. Early detection and prevention are more likely for men and women who become familiar with the feel and appearance of their breast tissue because they will be more sensitive to any changes.
In the past, experts suggested that a breast self exam be done by following a particular method every month, but research has shown that this isn't necessary. For men or women, there really isn't a right or wrong way to check breast tissue; the real key is just being aware of any changes in the tissue of the breast and nipples, under the armpits, and the area extending up to the collarbone. Any changes, particularly asymmetrical, should be brought to the attention of a health professional immediately.
Symptoms of breast cancer
Early stage breast cancer usually doesn't cause symptoms. Most often, the disease is first noticed as a painless lump in the breast or armpit. As the undiagnosed tumor grows, it can change the appearance and feel of the breast.
Symptoms of breast cancer include:
a lump or thickening in or near the breast or in the underarm area
a change in the size or shape of the breast
dimpling or puckering in the skin of the breast
a nipple turned inward into the breast
discharge of fluid from the nipple
scaly, red, or swollen skin on the breast, nipple, or areola
ridges or pitting of the skin around the breast that looks like the skin of an orange
Any change in the breast tissue or surrounding area should be brought to the attention of a doctor.
See your doctor
Men and women should see a doctor about any change in breast tissue that does not go away. Although these symptoms are most often not cancerous, another health problem could be the cause. Many people are alive and well today because their breast cancer was detected and treated early. It's important to know that no screening test for cancer is 100 percent accurate but, overall, screening for breast cancer can save the lives of both men and women.
More on breast cancer