Searching For A Cure
Even if you think you know everything about HIV and AIDS, take some time to brush up on the facts. Did you know, for instance, that Washington DC is a hot spot for HIV transmission, or that females are more easily infected?
(page 2 of 2)
How to help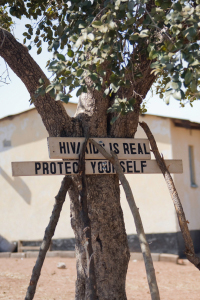 Many organizations, associations and companies continue the fight against HIV with your help.
MAC Cosmetics, for instance, is the second-largest worldwide corporate giver to AIDS foundations through its philanthropic arm, the MAC AIDS Fund.
The MAC AIDS Fund is 15 years old, but the company itself has been giving money to AIDS causes since its inception 20 years ago. The Fund has raised nearly $148 million for its cause in 15 years, says Nancy Mahon, executive director of the MAC AIDS Fund.
MAC's lipstick line, Viva Glam ($14 each), donates 100 percent of its proceeds to AIDS causes.
The Children's Place Association, the Midwest's first residential facility dedicated to the care of HIV/AIDS-affected children, focuses its international efforts in Haiti and Guyana. Haiti has the highest incident of HIV/AIDS outside of Sub-Saharan Africa, with an estimated 2.2 percent of the population infected, including approximately 6,800 children, Krieger says.
The Children's Place Association is always looking for volunteers willing to help children and families.
A full list of HIV/AIDS charities and support groups is available at www.cellscience.com/HIVcharities.html.
New scientific developments
As always, scientists are hard at work with new discoveries. In Smith's particular research, a study is being conducted to test the use of intra-vaginal estrogen to make the vagina more resistant to HIV infection. The study examines the effects of young women using cream three times a week to see if it produces the same changes seen in monkeys. The study is currently being conducted with about 100 women total and should be complete in the next year or so, Smith says.
Bionor Immuno, a Norwegian biotech company, is creating a therapeutic vaccine that could minimize the need for antiretroviral drugs, which have unpleasant side effects for many infected patients. Research shows that an estimated 50 percent of patients will stop taking antiretroviral drugs at some point over the course of their treatment because of the side effects, says Per Bengtsson MD, PhD, Senior Vice President Development, CMO of Bionor.
This therapeutic vaccine could be extremely beneficial and guide the development toward a preventative vaccine, Bengtsson says.
Bionor is starting its fourth clinical trial shortly and wants to achieve FDA accelerated approval by 2013.
For more on about helping others on SHeKnows Cares:
Give back to your community: Donate your time
Consider bone marrow donation
Top 10 Ways to give back