Rubina Ali Is Not Alone
Repeated rape. Beatings. Threats. Starvation. It's an unimaginable way for a child to live. But for children in some impoverished countries, it's the only way they know after being sold.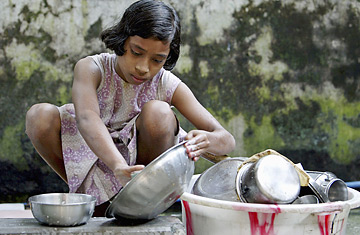 According to the U.S. Department of Health and Human Services, human trafficking is the fastest- growing criminal enterprise in the world, second only to drug trafficking and tied with the illegal arms industry. A recent United Nations report says modern-day slavery is on the rise, despite the increased awareness of the issue. Estimates range from 800,000 new victims each year (U.S. State Department), to 2.5 million (International Labor Organization).
Trafficked children are most often sold into factories or the sex trade, but are also sold into domestic and agricultural labor.
Here, we consult Shelley Seale, author of "The Weight of Silence: Invisible Children of India"; and Scott Macdonald, of the Not For Sale Campaign, about the facts on this horrific practice:
What is the main reason children are sold?
According to Seale, traffickers prey on orphaned, abandoned or runaway children. They also target poor, uneducated, often rural parents with promises that their children will get an education, a good job, and can send money and visit home.
Parents sell children to traffickers in order to pay off debts or gain income, Macdonald says.
"There is also almost an endless supply of money to be made by traffickers and those that exploit children," he says.
"Remember, you can sell a drug or a gun just once; you can sell a person over and over again."
The father of Rubina Ali, star of "Slumdog Millionaire," allegedly tried to sell his 9-year-old daughter recently, although the father refuted the undercover report.
"It should never be status quo to think it's OK to sell your son or daughter, but the current conditions in countries such as India allow it to be an option," Macdonald says.
Other factors include the overwhelming demand for cheap labor in India (due mainly to globalization), and with that, the blatant lack of an adequate monitoring system for these overseas supply chains. Not For Sale's Free2Work Campaign is helping keep global companies accountable.
Lastly, Macdonald cites an inadequate border patrol system from Nepal to India, as well as the corrupt nature of the Indian government.
Not For Sale is working to improve the border patrol system by extending the number of established border surveillance teams, comprised mostly of former victims, that survey the transit buses with local police to help identify criminals smuggling victims. Last year alone, the teams on the border rescued almost 2,000 girls from the sex trade.
They have also created eight transit homes in Nepal-India border towns to confront the commercial sexual exploitation of young women.
What countries are affected by child trafficking?
"Every country in the world is affected by trafficking and slavery," Seale says. "Every country. Even the United States."
Nearly every country on the planet uses child labor, Macdonald explains, but it's important to distinguish child labor from child slavery. In most impoverished countries, children must help their parents earn money to survive. It's when the work interferes with the children's education, developmental growth, or is classified as hazardous work, that it moves into child slavery and trafficking, he says.
Next: What happens to the children that are sold?