Save The Boobies
On behalf of SheKnows, I participated in the Breast Cancer 3-Day Walk in Denver this year. Unprepared and happily oblivious about what to expect going into it, I left the walk sore and tired, but a stronger, better woman. And in 2009, after going from 0 to 60 (miles, that is) in three days, I made a difference.
(page 8 of 13)
Day 2
Camping with crickets
Around 9 p.m. last night all that could be heard around our campsite was crickets.
There were just under 1,000 walkers who attended the event and every last one of us were sleeping like babies. Walkers with blisters, sore backs, aches and pains were treated by the medical team when they arrived back at camp and then we all enjoyed a good spaghetti dinner and local entertainment. Those of us who could muster enough energy to walk around still browsed the shops set up in tent, with 3-Day gear, athletic wear, etc. We had hot showers in trucks with large portable shower facilities, and then it was off to bed.
Today's a new day
This morning came SO soon. Valerie and I were tent mates, and Ashely was just down the row from us. Our alarm went off around 5:15 (I can't remember to be honest, but it was dark, damp, and cold, I know that.)
I visited the medical team for the first time and had my knees iced before heading out for another 20 miles.
I started out alone today, and wanted to meet different groups of walkers and find out why they walked, who they walked for and how they raised the minimum of $2,100 in funds for the Susan G. Komen for the Cure.
I met team Mission Pink (below), with two sisters -- one who lives in Germany, the other who lives in Seattle, accompanied by their friends, another from Germany and their local Denver team leader. As for fundraising advice? These ladies swear by shameless begging, pleading and harassing of their family and friends. Works like a charm.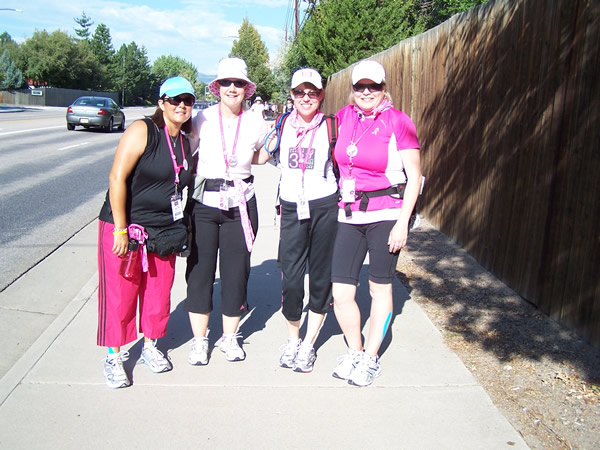 Team Save the Boob from San Francisco (below) were hilarious and so much fun. They fundraise each year by selling jello shots on the sidelines at the Bay to Breakers 12K Race in San Francisco.
I met a foursome of locals, around my age, who were walking just because they could. They fundraised for the 3-Day by writing letters to their family, friends and coworkers, and even organized a local bowl-a-thon.
And I even met Dan who carried the 3-Day Rally Monkey, who attends each and every event thanks to volunteers that visit the Cancer Angel.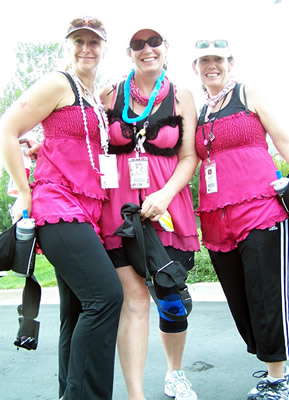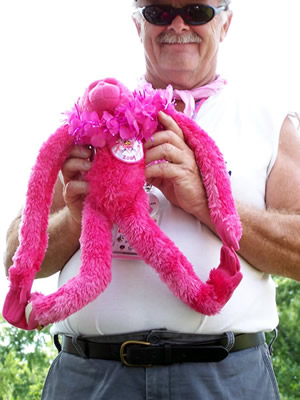 Jennifer (below) was part of the Save the Boob team, and was by far among the most spirited. She wore that little "outfit" the entire weekend, distracting drivers, causing construction guys to trip off the curb as they did double takes, and cracking us up each time we saw her. She left so many passersby with their jaws dropped in shock! I know she'll laugh if she reads this. Of the hundreds of walkers that surrounded us each day, she and I must have run into each other at least 30 times throughout the 3 days.
Danielle was another Denver local walking just because she wanted to make a difference. Note the sign behind us that says we have walked 38.3 miles!!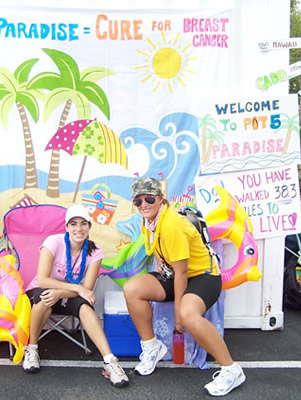 Next page: The men...