Save The Boobies
On behalf of SheKnows, I participated in the Breast Cancer 3-Day Walk in Denver this year. Unprepared and happily oblivious about what to expect going into it, I left the walk sore and tired, but a stronger, better woman. And in 2009, after going from 0 to 60 (miles, that is) in three days, I made a difference.
(page 5 of 13)
One tired pup
You might notice that the photos documenting Day 1 end abruptly right about here.
That's because I no longer had the energy to reach into my bag and take out my camera. I was 100% focused on getting through the walk and in some serious pain by the time lunch hit. My muscles had tightened up and as I sat there with the girls eating my turkey sandwich, apple and chips, I had my first flash of what it will be like to be old.
I had never before needed both hands and a friend's shoulder to get myself up off the ground, nor had I ever dreaded the idea of bending down to get my bag of stuff after I had finally just gotten my sore body up and steady on to my two tired feet.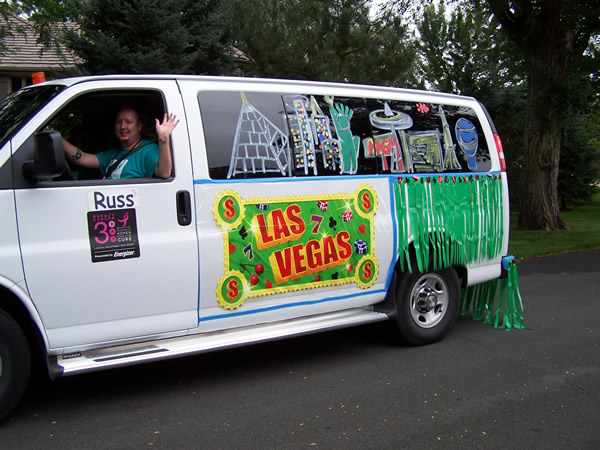 As we walked on that day, the cheering and singing and laughing slowly drifted off and was replaced by moans and groans, a much slower walking pace and the occasional flagging down of the Sweeps Vans.
These vans patrol the 3-Day Walk route, and check up on walkers, cheering us on with amazing enthusiasm. They're also there to "sweep up" walkers who need a rest, have blisters too painful to walk on without treatment, or in many cases, who just have a case of the good ol' "I need to pee!"

Next page: Remembering why we are here