Save The Boobies
On behalf of SheKnows, I participated in the Breast Cancer 3-Day Walk in Denver this year. Unprepared and happily oblivious about what to expect going into it, I left the walk sore and tired, but a stronger, better woman. And in 2009, after going from 0 to 60 (miles, that is) in three days, I made a difference.
(page 4 of 13)
Feeling the burn
By Pit Stop 3, I only had two things on my mind: Port-a-potty and soft grass where I could rest.
We bee-lined for the port-a-potties then hit the grass to catch our breath and stretch.
Signs throughout the walk remind walkers to stretch 5 minutes for every hour of walking.
By Pit Stop 3 we had walked about 6.7 miles and our feet knew it. The medical tents experienced their first rush, with walkers seeking blister treatment.
It was at this Pit Stop that I realized I had underestimated this walk.
It's time for another confession. Confesssion #3: I did not train properly for this event. Not unless you count walking my chubby beagles to the park two miles away from my house, training.
There are a number of great training tips for the 3-Day and training programs available to walkers and the Breast Cancer 3-Day Walk's site even offers walkers a tool to search by zip code for scheduled 3-day training walks in your area.
I obviously didn't take advantage of this resource, and I am so annoyed with myself. We can just think of this as the Breast Cancer 3-Day What-Not-To-Do Blog.
But to redeem myself, I have some quick tips for you in the SheKnows Survival Guide for Breast Cancer 3-Day Walkers! It'll help you be prepared for this adventure -- I promise -- and next time I'll take my own advice.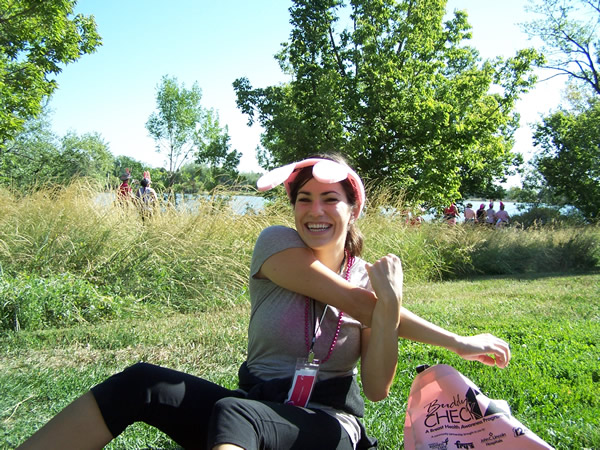 My knees are starting to get sore, and so are my hips, right at the joints. Weird. All that my bunny-ears-wearing self can do now is stretch out at every stop.
A bunch of pink crazies
I mentioned earlier how the volunteers dress up and decorate the Pit Stops, but I don't think I've quite conveyed the message thoroughly enough yet. The Crew is totally nuts. Dressed head to toe, to the nines in pink feathers, pink hats, wigs, tutus, pom poms, silly socks and more.
I have to hand it to the safety crew, too. They stood out there at every street crossing and at every stop light, dancing and waving, dancing to the music blasting from the radios tied to their bikes or blaring from their motorcycles.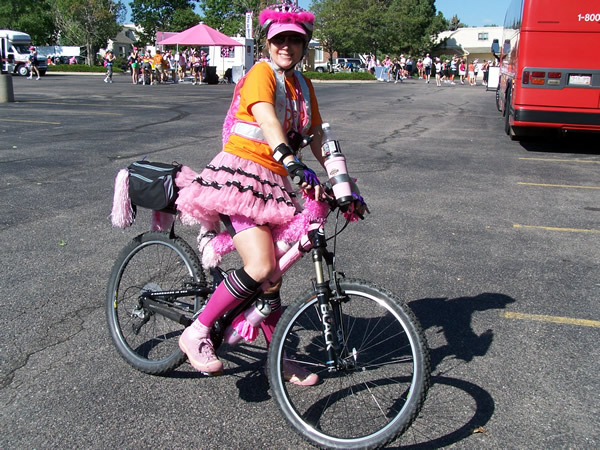 There were cheering stations along the way where family and friends of walkers gathered with homemade signs, water bottles, spray bottles filled with iced water to spray and cool off the walkers, lots of high fives, and hugs.
Kids handed out candy and popsicles, blew whistles and cheered their moms on as they walked by.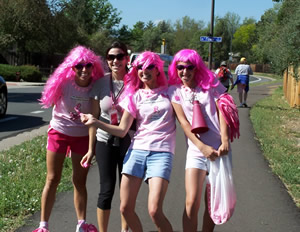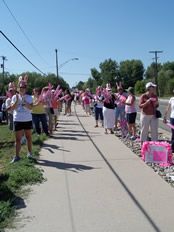 Next page : One tired pup