Save The Boobies
On behalf of SheKnows, I participated in the Breast Cancer 3-Day Walk in Denver this year. Unprepared and happily oblivious about what to expect going into it, I left the walk sore and tired, but a stronger, better woman. And in 2009, after going from 0 to 60 (miles, that is) in three days, I made a difference.
(page 2 of 13)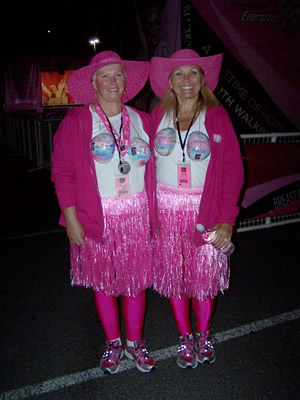 Day 1 
Please pass the caffeine
Half asleep still and a little nervous, I boarded the shuttle from my hotel to the Colorado Mills Mall in Lakewood, for the Opening Ceremony. I choked down a PowerBar and licked my third coffee cup of every last drop of deliciousness, then headed off the bus dragging my "35-pound" bag behind me.
Volunteers were shockingly energetic.
Pink wigs, pink hats, pink ribbons and beads, and smiles were everywhere and I immediately absorbed the great vibe.
All of us walkers loaded our bags into the semi trucks which would transport them to camp for us, then headed into an emotional opening ceremony.
New friends
Energizer was (appropriately) one of the event sponsors and handed out foam pink bunny ears to all of the eager walkers. It took about 7 seconds of me standing there awkwardly by myself before I made friends with the two women standing closest to me.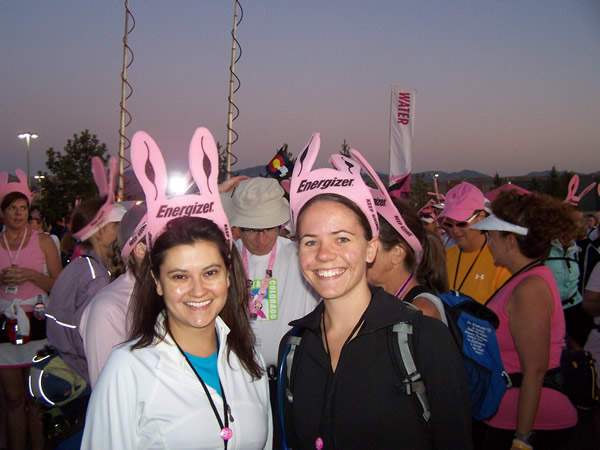 Valerie, a Denver local, and Ashley, also a native Colorado gal, whose mother, I'd later find out, had just lost her battle with breast cancer two months ago.
Opening ceremony
Bring on the tears... Opening ceremony was a tear-jerker as we met some of the survivors we'd be walking alongside, as well as those walking in honor of their friends and loved ones.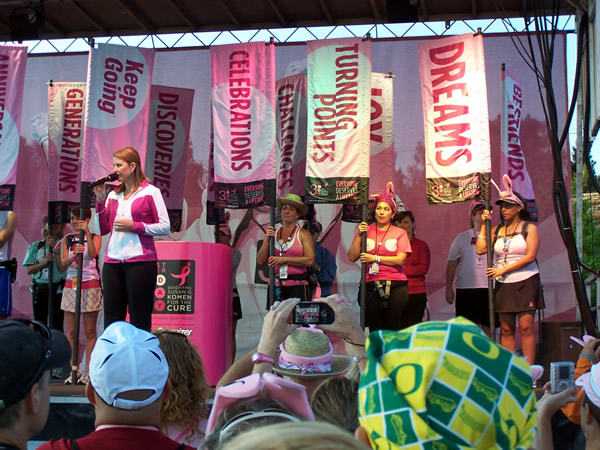 Flags paraded across the stage held by people who have been directly affected by breast cancer. For my MOTHER, For my SISTER, For my DAUGHTER, For my GRANDMOTHER, For my WIFE, For my PARTNER, For my HUSBAND, For my NEIGHBOR...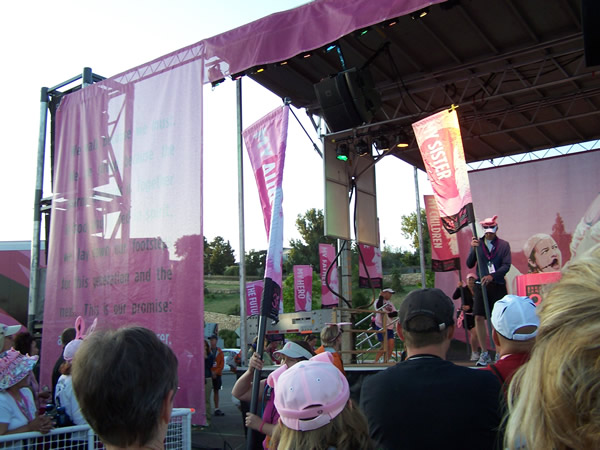 And we're off!
Inspired, motivated, (now fully awake and watery-eyed), and eager to begin, we started our walk. The sun was out and we were welcomed warmly by rush hour traffic honking and cheering us on at every stop light. We felt like rock stars with our very own fan club. It was such a great feeling being part of the sea of pink that flooded the streets throughout Lakewood and the surrounding community.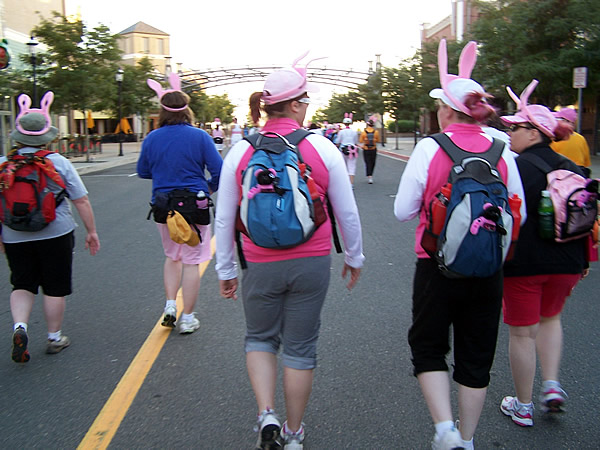 Neighbors stood in their driveways and sat on their front porches in their robes and coffee cups, cheering us on. Before we knew it we'd arrived at our very first Pit Stop.
At each stop, walkers are encouraged to drink about 4 to 5 ounces of fluids per mile, so the Pit Stops are stocked up with Gatorade and water coolers for us to fill up our water bottles. Drink, Pee, No IV! was the mantra that day. There are also snacks galore: animal crackers, pretzels, chips, string cheese, bananas, sliced oranges, yogurt -- you name it. So we stretched and refueled and headed back on our trail.

Next page: POTTY BREAKS