Breast Cancer Risks
Exposure to some environmental factors -- such as smoking, diet, medical treatments, consumer products, and chemicals -- may be responsible for increasing your risk for breast cancer. Though a great deal of research is being conducted, no conclusive causal link exists to many suspected substances. Still, experts suggest limiting your exposure to environmental compounds that exhibit estrogen-like properties, hormone-disruptive substances and other potential cancer-causing chemicals. Here are 10 environmental factors that may increase your risk of breast cancer.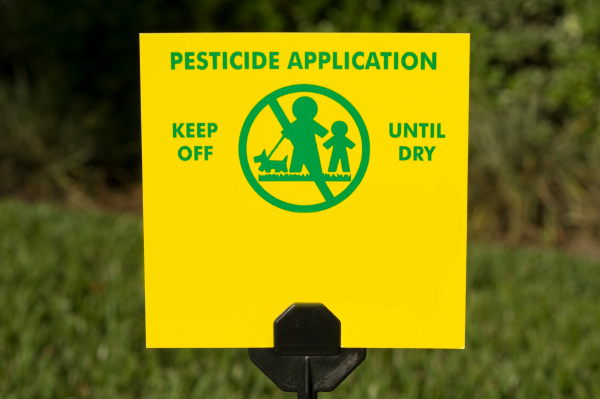 Pesticides
Research from the University of Liverpool suggests that exposure to even small amounts of pesticides such DDT can increase cancer risk. Scientists say that synthetic pesticides may be a major factor in causing hormone-dependent malignancies such as breast cancer. Results of the study were published in the Journal of Nutritional and Environmental Medicine.
Secondhand smoke
Though research has not shown smokers to be at increased risk for breast cancer, studies have suggested that high concentrations of secondhand smoke can cause breast cancer in rodents. Further, a 2005 report from the California Environmental Protection Agency concludes that there is a causal association between secondhand smoke and breast cancer in younger, primarily premenopausal women. Given that smoking and secondhand smoke are related to other types of cancer and medical conditions, kicking the habit will prove beneficial in reducing your risk of breast cancer as well as improving your overall health.
Postmenopausal hormone therapy
Research published in the April 2007 issue of the New England Journal of Medicine indicates that the sharp decline in the rate of new breast cancer cases reported in 2003 may be related to a national decline in the use of hormone replacement therapy (HRT). The study looked at the breast cancer incidence rates and HRT prescription rates after research was reported linking HRT to higher risks for breast cancer, heart disease, stroke, blood clots and urinary incontinence among women using HRT that contained both estrogen and progestin. Talk to your doctor about alternatives to HRT if you are menopausal or reaching menopause and feeling challenged by the symptoms related to menopausal hormone changes.
Parabens
Found in antiperspirant, shampoo, lotion and other personal care products, parabens are substances that exhibit weak estrogen-like properties. Studies have not shown a direct link between parabens and breast cancer, but researchers have found small traces of parabens in some breast cancer tumors. To play it safe, read labels and opt for personal care products that are paraben free.
Synthetic recombinant bovine growth hormone (rBGH/rBST)
Used to increase milk production in dairy cows, rBGH (also known as recombinant bovine somatotropin, or rBST) is a synthetic hormone that has been shown to increase circulating levels of a natural hormone called insulin-like growth factor (IGF-1) in humans. Some studies indicate that adults who drink milk have 10 percent higher levels of IGF compared to those who drink little or no milk. Substantial evidence indicates that IGF levels at the high end of the normal range may influence the development of breast cancer as well as other cancers, because cancerous (and normal) cells have IGF receptors on their surfaces. At this time, research is inconclusive, but some dairy farmers have responded to public concern and now offer rSBT-free milk.
Tetrachloroethylene
Tetrachloroethylene is a chlorinated solvent commonly used in the dry cleaning and textile processing industries. (A solvent is a substance, usually a liquid, capable of dissolving another substance.) It is also found in rubber coatings, solvent soaps, printing inks, adhesives, glues, sealants, polishes, lubricants, degreasers and silicones. This substance is suspected of causing many cancers, including breast cancer, particularly in studies examining the link between cancer and tetrachloroethylene levels in drinking water. Experts recommend limiting your exposure to items containing the chemical, protecting yourself at work if you work in the dry cleaning or textile industries, and being aware that, if you dry clean your clothes, you could be exposed to higher levels of tetrachloroethylene.
Diethylstilbestrol (DES)
Prescribed to about four million US women from 1938 to 1971, DES is a synthetic form of estrogen that was given to pregnant women to lower the risk of miscarriage. In 1971, the Food and Drug Administration (FDA) advised doctors to stop prescribing it because studies showed it wasn't effective and linked it to reproductive health problems in children born to mothers who took DES. Further, DES became suspect in breast cancer in mothers who took the drug. Research suggests that the risk of breast cancer in DES-exposed mothers is about 30 percent higher compared to women who did not take DES. The National Cancer Institute (NCI) recommends that DES-exposed mothers (or women who were pregnant between 1938 and 1971 and don't know if they were exposed) to follow a regular schedule for early breast cancer detection, as is recommended for all women, and to immediately report any lumps or changes in their breasts to their doctor.
Polycyclic aromatic hydrocarbons (PAHs)
PAHs are a group of more than 200 different chemicals formed when coal, wood, gasoline, oil, tobacco or other organic materials are burned. They can also form in fish or meats when they're charbroiled or grilled, and they've even been found in the air. Research has linked several PAHs to breast cancer in laboratory rats and mice, but studies have proven inconclusive in humans. Still, experts recommend that you limit your exposure to PAHs by not smoking or being around secondhand smoke; consuming less smoked meats, fish and cheese; not charbroiling your foods; avoiding places where garbage and yard waste are being burned openly; keeping fireplaces, wood-burning stoves and kerosene heaters well ventilated; properly disposing of gas and oil to avoid soil or water contamination; and taking public transportation to reduce car exhaust exposure.
Polychlorinated biphenyls (PCBs)
PCBs are a group of man-made chemicals used in electrical equipment, hydraulic fluid, heat transfer fluid, lubricants and plasticizers that find their way into the environment through spills, leaks and improper disposal or storage. These chemicals are found in the air, water, soil and sediments throughout the world. Most people are exposed to PCBs by eating contaminated fish, meat and dairy products. Studies have shown that women with high body levels of PCBs usually don't have a higher risk of breast cancer; however, research published in Cancer Epidemiology Biomarkers and Prevention indicates that women with a certain gene (CYP1A1) who also had high PCBs are at a higher risk of developing the disease. It is possible that many chemicals can become carcinogens in the body due to certain gene variations.
Bisphenol A (BPA)
Under close scrutiny for its negative health effects on infants, children and adults, BPA is a man-made chemical widely used in plastic products, including plastic water bottles, baby bottles, food packaging, compact discs and other consumer products (look for the number 7 on the bottom of plastic bottles and packaging; it indicates BPA). Though research has not conclusively linked BPA to breast cancer, experts say BPA, which exhibits estrogenic properties, has been shown to cause changes in breast tissue that could be linked to cancer. The US National Institute of Environmental Health Sciences recommends avoiding #7 plastics; using glass, porcelain or stainless steel containers for food and drink; and keeping plastics out of the microwave.