Teen Guide
To Breast Health
Breast cancer, the second most common cancer in American women, is extremely rare in teens. Some young women, however, are more at risk of developing the disease due to family history and lifestyle, and some women will develop breast cancer even though they have no risk factors. The best way to beat breast cancer is to learn more about it and be aware of the risk factors as well as changes in your breasts that need to be checked by your doctor.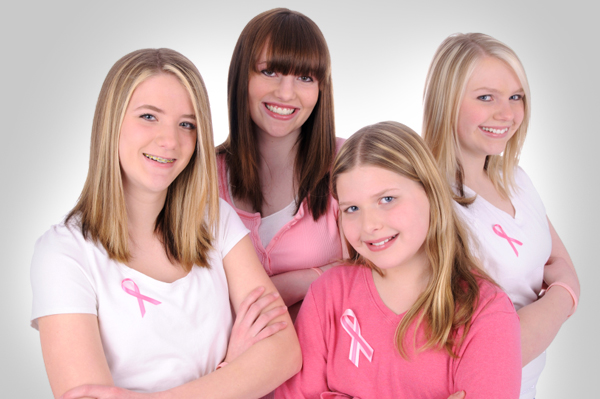 What is breast cancer?
According to the American Cancer Society, breast cancer is a malignant (cancerous) tumor that starts from cells of the breast. A malignant tumor is a group of cancer cells that may invade surrounding tissues or spread (metastasize) to distant areas of the body. Though a breast lump is a red flag for breast cancer in most cases, inflammatory breast cancer manifests with swelling, redness and warmth in the breast due to cancer cells blocking the lymphatic vessels in the skin, often with no distinct lump.
Breast lumps: often benign
Finding a lump in the breast at any age can be scary, but most lumps are benign (non-cancerous). Benign breast lumps often are caused by cysts or tumors that are not life threatening. Even though these lumps aren't malignant, they still need to be checked by a doctor to rule out breast cancer and other medical conditions.
Who is at risk for breast cancer?
All females are at risk for breast cancer because the cells of the breast are exposed to fluctuations in hormones. Breast cancer is more likely to occur in women who have more risk factors, but women who have no known risk factors can develop the disease.
Risk factors for breast cancer:

Female (men can get breast cancer, too, but they are at a far lower risk)
Age
Family history of breast cancer
Causcasian
Early start of menstruation and late menopause
Birth control pills
Alcohol consumption
Being overweight or obese
Lack of physical activity
Secondhand smoke
Exposure to environmental carcinogens (this is an area of growing research)
You can change risk factors such as gender, age, family history and ethnicity, but you do have control over those related to lifestyle, such as diet, exercise, smoking and drinking.
Teen guide to reducing breast cancer risk
The National Cancer Institute suggests avoiding cancer risk factors that you can control and increasing protective factors. Here are some simple ways to reduce your risk of breast cancer.
1. Talk to your doctor about breast health. Changes in hormones naturally cause changes in breast tissue -- from entering puberty and developing breasts to experiencing soreness or swelling due to the menstrual cycle. Talk to your doctor about changes that are normal and changes that warrant concern.
2. Learn how to do a breast self-exam. Become familiar now with the normal look and feel of your breasts so that you can detect more easily any future changes that may be related to breast cancer. If you do notice changes, see a doctor promptly to rule out breast cancer and other medical conditions. (Video: Breast self exam)
3. Maintain a healthy weight. Being overweight or obese not only increases the risk for breast cancer, it also raises the risk for other health problems such as diabetes and heart disease.
4. Eat right. Resist the temptation to live on fast food and packaged junk foods. Follow a diet rich in fruits, vegetables, whole grains and lean proteins. Changing your diet also can help you maintain a healthy weight.
5. Exercise. Make physical activity a daily priority. It can reduce the risk of breast cancer as well as improve your overall health.
6. Don't drink or smoke. Though drinking and smoking aren't even legal for most teens (the legal age for drinking is 21 years old, and for smoking, 18), many teens do both. Drinking alcohol has been linked to an increased risk of breast cancer. Secondhand smoke is another risk factor, with more research being conducted to determine the link between smoking and breast cancer.
more about breast cancer