Dana Hooper: Breast Self Exam Saved Her Life
How often do you skip your monthly breast self exam (BSE) assuming you'll find nothing because you are healthy and too young to get breast cancer? For wife and new mom Dana Hooper, a monthly BSE saved her life. One week shy of her 31st birthday, Hooper was diagnosed with breast cancer after finding a lump in her right breast. The Phoenix, Arizona attorney is now done with active treatment, cancer-free and an inspiration for women of all ages and stages of life.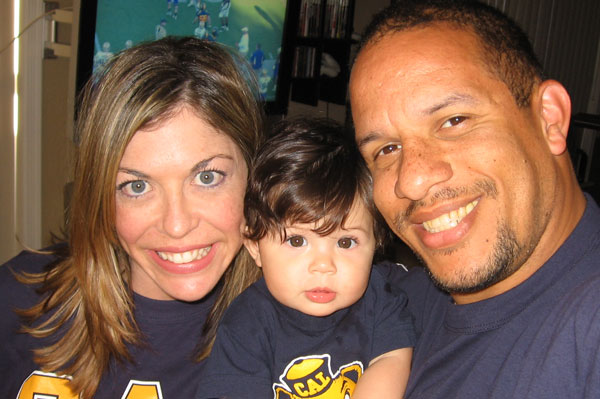 Finding out
SheKnows: Did you suspect you had breast cancer or was it a surprise?
Dana Hooper: I was 30 years old when I was diagnosed (one week shy of my 31st birthday). I discovered a lump in my right breast while doing a self exam. I had recently had to stop breastfeeding because I was preparing for knee surgery. Once I stopped lactating, I believe my breasts went back to "normal," which allowed me to discover the lump. The odd thing was that this was my second serious knee injury, and I kept wondering why it was happening again, especially while I had a newborn. Well, I truly believe that some event had to happen (knee injury) to force me to stop breastfeeding in order for me to find the lump.
The value of the breast self exam
SheKnows: A BSE helped you detect a lump, yet so many women forgo self checks. What has made BSEs an important part of your health care?
Dana Hooper: Ever since my mom passed away from breast cancer, I have been doing self exams. Each year, my husband and I have participated in the Race for the Cure, where there are lots of reminders to do the breast self checks. Also, in November of 2007, while I was six months pregnant, I did the 3-Day Walk (60 miles) where there were tons of reminders that you can detect [breast cancer] early.
Awaiting with anxiety
SheKnows: How did you feel while you were waiting for results to rule out or confirm breast cancer?
Dana Hooper: Waiting for test results, no matter what your condition, is not easy. It brings about anxiety that is different than the norm. I was often nervous, but never panic stricken. My team of doctors educated me with the facts and truly cared about me as a human being.
Facing mastectomy
SheKnows: Once diagnosed with breast cancer, what treatments did you go through?
Dana Hooper: At first, I had bilateral mastectomies in hopes that they would not only remove the cancer, but also prevent any future recurrence. The biopsy initially showed the equivalent of a Stage 0, non-invasive type of breast cancer. While scary, I felt great that it was caught so soon. However, during mastectomies, doctors do pathology reports to really determine what the tumor is all about. It turned out that the cancer had advanced to Stage 1 and was an invasive, aggressive form. The great news was that when they removed the lymph nodes to test for spreading, those were all clean.
Coping with chemotherapy
SheKnows: Did you also have to go through chemotherapy?
Dana Hooper: Before [my mastectomies], I had no thought of needing chemotherapy. But that changed once I was diagnosed with an invasive form of breast cancer. In order for the doctors to feel more confident about zapping any cancer cells that could get loose, chemotherapy was recommended. Despite the horrifying prospect, I recognized that a few months of my life getting chemotherapy and dealing with the side effects would be worth what it was giving me -- peace of mind and health for the future. Thus, I went through chemotherapy.
Recovery and reconstruction
SheKnows: Has breast reconstruction been a part of your breast cancer recovery?
Dana Hooper: During the course of chemotherapy, I was also under the care of the plastic surgeon who performs reconstruction post-mastectomies. [During a mastectomy], the plastic surgeon inserts essentially empty temporary implants called tissue expanders. Their purpose is to create enough space for your permanent implants to reside. The tissue expanders are filled with liquid a little every couple of weeks to expand slowly. As the implants get more and more full, it is quite painful. I went for 13 expansions to provide enough space prior to my second surgery, which is when the surgeon puts in the permanent implants. A couple months following my last chemotherapy session, I was ready for the second surgery. It went great, and I am almost done with the reconstruction part, which will be just at the plastic surgeon's office from here on out.
Breast cancer also affects family and friends
SheKnows: How did your ordeal affect your family and friends?
Dana Hooper: It was very hard on my father, who had to see my mom suffer through the diagnosis and treatment,  and ultimately saw her pass away from the disease. I believe my older sister had the same feelings. My husband was absolutely dynamite, caring for our baby whenever the treatments or surgeries were kicking my butt. He never wavered in his support. My friends reacted in different ways. Some gave me space, some contacted constantly, while others asked lots of questions. I wasn't super public about all of this, for several months, so only people close to me knew.
Starting a new chapter in life
SheKnows: What is your health status today? How do you feel?
Dana Hooper: Currently, I am done with my active treatment and am cancer free. Follow ups and bloodwork will be part of my life now, but that's fine by me. I feel terrific and thankful that I am starting a new chapter.
Words of inspiration
SheKnows: What advice can you give women who have been diagnosed with breast cancer?
Dana Hooper: My advice to other women who have been diagnosed and must go through treatment is that there IS life after a diagnosis. Remaining positive is the key. Happiness brings about health. Surround yourself with people who are truly fantastic and who don't stress you out.
more about breast cancer