Building Homes For Women
Trisha Yearwood: She's an award winning singer, actor, cookbook author and even knows how to hit the nail on the head with Habitat for Humanity. What a gal!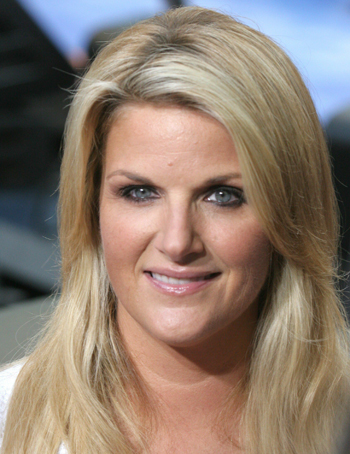 Sometimes, a little inspiration goes as long way.  We can, certainly, tip our hats to Trisha Yearwood for being both an inspiration and a role model during this past May's Habitat for Humanity "National Women Build Week." This beautiful and talented dynamo of a lady had no qualms about getting down and dirty to pitch in and build a home for the homeless.
The second annual "National Women Build Week," underwritten by Lowe's, took place May 2—10, 2009. More than 200 affiliates across the United States were host to the event during the week before Mother's Day.  Lowe's not only underwrites the program, but also enables their associates to train volunteers through "how to" clinics. This program's goal is to bring together, for one or more days, women willing to learn construction skills to build simple, decent affordable houses.  This year, more than 7,000 women volunteers worked together on 200 Habitat for Humanity construction sites nationwide. These numbers tell us that American women care and want to make a difference. Trisha Yearwood kicked off the "National Women Build Week" by building alongside other women volunteers. Her hubby, Garth Brooks', joined her in Brooks' hometown of Tulsa, Oklahoma and they later tied up the weeklong event with the women volunteers in Atlanta. On Mother's Day, Trisha's mom, sister and niece joined in the construction effort, as well.  This year was the fourth time Trisha has given back by pitching in to help build homes for the homeless. "I've always wanted to do something that is hands-on," says Yearwood.  "Habitat was always one of those things. It's a physical labor project, yes — you're very tired at the end of the day. But you feel like you've really done something." Trisha and Garth took on this project together, helping build homes in both their home states. "We (Yearwood and Brooks) were lucky to be raised by parents who said 'You have a responsibility to give back,'" Yearwood said. "That's not just because we're celebrities. It's everybody's responsibility..." In Tulsa, the recipient of this year's Southern Crescent Habitat for Humanity women's build house is 35-year-old mother of four, Katinka Matthews. Financial challenges and health problems of her second-oldest son, Terrance, 15 made it impossible for Matthews to own a home before this time. "When I move in, the first thing I'm probably going to do is shout 'Praise the Lord! It's mine!' " Matthews said. In the past, many other celebrities have also helped to build homes for Habitat for Humanity including Jennifer Aniston, Jon Bon Jovi, Snoop Dogg, and Alec Baldwin.   Surely, the message all these celebrities hope to convey is that if they can find the time, we can too. An important thing to remember, however, is we don't need to wait until the next "National Women Build Week" rolls around again to pitch in and give back. Habitat for Humanity accepts volunteers to help build homes for the homeless all year long.  Trisha Yearwood has been an inspiring role model encouraging us to do our part in making this world a better place for everyone.
More articles on celebrities giving back
Most generous stars: Biggest celebrity philanthropists
Extreme Makeover Home Edition Builds Home For Family Who Helps Foster Care Children
Extreme Makeover Home Edition Reaches Final Stop On 50 State Tour