Celebrity Survivors
Celebrities from all genres have been afflicted with breast cancer. Many have survived and here are ten of their inspiring stories.
(page 2 of 2)
Melissa Etheridge
Who could ever forget the clean shaven head of Melissa Etheridge on the Grammys in 2005 belting out her hero Janis Joplin's Piece of My Heart?
It was one of the award show's most memorable moments in history and served as an announcement to the world that Etheridge had stared cancer in the eye and cancer blinked.
Diagnosed in 2004, it was discovered Etheridge had stage II cancer which had spread to a lymph node.
Interesting note: Janis' Piece of My Heart has become an anthem for the cause. Here's Melissa at that iconic Grammy awards.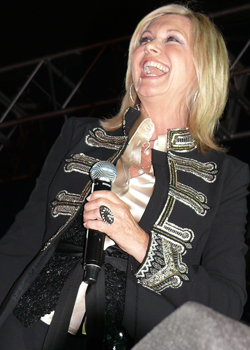 Olivia Newton-John
The Physical singer was getting a physical when doctor's discovered a lump.
After a mastectomy and chemo treatment, Olivia Newton-John has become cancer free. An inspiration to millions as a singer and an actress in hits such as Grease, Newton-John became one of the first faces of breast cancer survival.
Always across the globe promoting the cause by raising awareness and funds, Newton-John has also been a go-to shoulder to lean on for a number of the other celebrities profiled in this feature on survival.
Edie Falco
Then she was a superstar actress as Camilla Soprano in the HBO genre busting television hit, The Sopranos.
Edie Falco, like Nixon (ahead), fought her cancer battle in private. Diagnosed as most on this list, with early detection through a routine check up in 2003 and underwent extensive treatment throughout 2004 while simultaneously filming The Sopranos.
Christina Applegate
The effort to rid the world of the disease's most recent success story has spoken publicly about her battle against breast cancer. Christina Applegate showed up at the 2008 Emmy Awards effervescent showing to the world that she had come out on top in her personal war against breast cancer.
Although public about her success, Applegate went through the process of diagnosis and treatment without the public's knowledge. Her story is an inspiring one because only in her 30s, Applegate's diagnosis illustrates how the disease knows no age limits.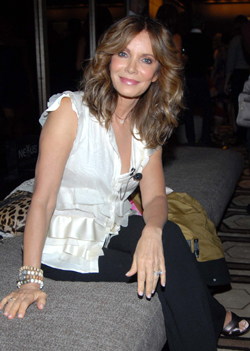 Jaclyn Smith
A favorite Charlie's Angel discovered in 2002 that she had breast cancer. Jaclyn Smith underwent radiation therapy after a lumpectomy and has also received a clean bill of health.
Cynthia Nixon
As the publicity machine was beginning for Sex and the City: The Movie news broke that one of its star had cancer. Cynthia Nixon went through the entire process outside of the public eye. Nixon has said that she was afraid there would be a negative impact on her career. Watching her out in the world promoting breast cancer awareness is inspiration because she carries the mantle of survivor.
Read our interview with Cynthia here.
Carly Simon
A great interview and a gifted singer and songwriter, Carly Simon became diagnosed with breast cancer in 1997. After a mastectomy and reconstructive surgery, Simon emerged healthy in 1998.
In our interview earlier this year, Simon said that the painful process has forged a stronger person than she was before. A spokesperson for the promotion of awareness and fundraising, Simon has taken her tragedy and sought to give other women triumph.
Read our interview with Carly here.
Related stories
Pink lipstick and supporting breast cancer awareness
Share your breast cancer story and win a Journey Planner
The SheKnows Message Boards: share your stories with others