Give Back And Shop Pink
October is Breast Cancer Awareness month and companies around the globe have created and designated certain products with proceeds from their sale going to various breast cancer awareness, research and support organizations. If you are shopping for fashion or beauty products this October, shop pink!
(page 4 of 5)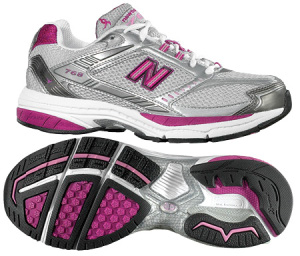 Pink sneakers, t-shirts and apparel
New Balance has committed to a $1 million donation from sales of the New Balance 2008 Lace Up for the Cure collection to the Susan G. Komen Foundation. The line includes sneakers, apparel, hats, bags and accessories.
White + Warren will donate 50% of all proceeds of the sales of their Pink First Class travel wrap, city scarf, pink slippers and other select items to Women at Risk.
Lauren Merkin will donate 100% of proceeds from their Pink leather luggage tag & passport holder set during the month of October to the Young Survival Coalition.
Dearfoams slippers has created an exclusive Pink Ribbon style, benefiting Making Memories Breast Cancer Foundation. A portion of the proceeds from the sale of each pair of slippers benefit the nonprofit foundation ($5.00/pair sold).
As the official footwear and apparel sponsor of the Avon Walk Around the World for Breast Cancer, Reebok has launched a Pink Ribbon collection that benefits the Avon Breast Cancer Crusade.
In partnership with Kay Jewelers, breast cancer survivor and jewelry designer Phyllis Bergman will be donating a portion of each sale of her "Think Pink" inspired pieces during the month of October to the Anne Moore Breast Cancer Research Fund. Available by special order from your local Kay Jewelers store.
Notting Hill Design will donate 50% of all proceeds of the pink python Westbourne handbag to the Susan G. Komen For The Cure Foundation.
Coach will be donating 20% of the retail price of their BCRF KeyFob, BCRF Lanyard and BCRF Heart Charm to the Breast Cancer Research Foundation.
Pink soap, skincare products and more
HSN will donate 30% of all proceeds of the sale of the Gianna Rose Soap Petals to the Susan G. Komen Breast Cancer Foundation.
Ojon will donate 20% of all North American sales of their Pink Ribbon Revitalizing Mist purchased from October 1, 2008 to October 31, 2008 to the Breast Cancer Research Foundation.
Mel B from the Spice Girls has designed a limited edition T-shirt as part of the Pose for the Cure program. The shirt will be available for $24.99 with net proceeds of $10.59 per shirt going to Susan G. Komen for the Cure.
Tweezerman has committed to raising $75,000 through their BCA program, and $1.00 from the sale of each limited edition Precision in Pink tweezers will go to Cancer Cares as well as other various charities throughout the country to help in the fight.
One With Nature will be donating 10% of sales of their (pink!) Rose Petal Soap to Susan G. Komen for the Cure in support of Breast Cancer Awareness Month.
In October, Palmer's will donate proceeds from the sale of pink specially marked Cocoa Butter Formula, Olive Butter Formula and Shea Butter Formula Lotions to Susan G. Komen for the Cure. Available at food, drug, and mass stores nationwide, as well as etbrowne.com.
Ten percent of every Skinsational Signature or Vitamin C Facial and 5% of every Skinsational's Signature 16oz California Citrus Hand & Body Wash or Hand & Body Lotion purchased during October will be donated to fund the fight against breast cancer.
Terralina is partnering with the Dr. Susan Love Research Foundation for Breast Cancer Awareness Month and will donate 15% of its proceeds on all products to the organization throughout the month of October.
For every Sunbeam Microplush Pink Throw purchased from September 1, 2008 through April 30, 2009, Sunbeam will donate one dollar to the City of Hope for breast cancer research, treatment and education.
Organic Diva, an online retailer of non-toxic personal care products, will be giving a portion of their October proceeds to breast cancer awareness.
En Pointe Skin Solutions was developed by female plastic surgeon Dr. Christine Rodgers. Dr. Rodgers battled breast cancer in 2006 and En Pointe Skin Solutions was a result of this time in her life. The line donates a portion of the proceeds to Breast Cancer Awareness every October.
New nail company butter LONDON is donating 100% of proceeds from the sale of their Pink Ribbon 3 Free Lacquer and their Mango Peach Hand & Nail Creme to the Susan G. Komen Foundation.
Elaine Turner has designed a pink patent credit card case which will be available during the month of October at elaineturner.com and 100% of the proceeds will be donated to the Lester & Sue Smith Breast Center at Baylor College of Medicine.
Breast cancer survivor and the Queen of Curls, Ouidad vowed to make a difference in the lives of other women – thus launching Curls for a Cure, a donation program promoted on her Website ouidad.com which welcomes visitors to make a donation of their choosing toward Breast Cancer Research year round. Taking her commitment a step further, Ouidad will personally match any amount donated, dollar for dollar!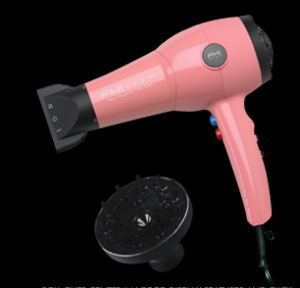 FHI Heat is donating $1 from each sale of five of its styling tools, including the FHI Heat Nano Weight Pro 1900 Turbo Professional Salon Hair Dryer to Pink-Link, a virtual forum that hosts the only online database of breast cancer survivors.
e.l.f.'s Super Glossy Lip Shine fights environmental damage with SPF 15 and in October, it will fight breast cancer too, with 100% of profits from sales of Pink Kiss benefiting The Breast Cancer Research Foundation.
Custom alligator bag designer Alexandra Knight is offering pink gator key chains during the month of October. At $85 each, they are available at alexandraknightonline.com and 100% of the proceeds are being donated to MD Anderson Cancer Research Center.
Created to promote breast cancer awareness while supporting research, BORBA'S Best-Selling Lip Balm is Pretty in Pink helps you get gorgeous, while celebrating the beauty of giving. Ten percent of net proceeds from the sales will benefit the Breast Cancer Research Foundation. $16, borba.com.
Keep shopping - on the next page you will find items from Clinique, Estee Lauder, Donna Karan, Prescriptives and more.