Give Back And Shop Pink
October is Breast Cancer Awareness month and companies around the globe have created and designated certain products with proceeds from their sale going to various breast cancer awareness, research and support organizations. If you are shopping for fashion or beauty products this October, shop pink!
(page 2 of 5)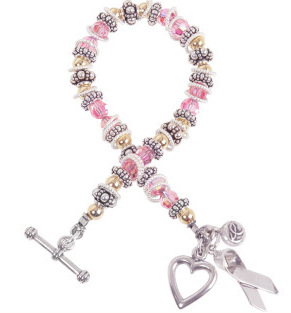 Pink jewelry, fashions and makeup
Elisa Ilana carries a line of Breast Cancer Awareness jewelry with earrings, bracelets and necklaces all donating a portion back to the cause.
Privé will be donating $1.00 to The Expedition Inspiration Fund for Breast Cancer Research for every purchase of the new Privé Thermal Protection Detangling Spray made between October 1, 2008 and August 31, 2009. Prive goes one step beyond by telling women that have had their mammogram within the last year or have a mammogram scheduled before October 31st, 2008, that they will get a free service at one of Privè's participating salons for the month of October and November.
Buy a Cotton Candy Bralief, a product that promises an instant breast lift, and 20% of the net sales will be donated to Breast Cancer Research.
The Carol Cole Company is donating a percentage of the proceeds from sales of their Limited Edition Pink NuFace to Breast Cancer Research.
Portions of all sales of the Beija-Flor Taryn Jean will go toward a scholarship for Outward Bound, a support group sponsored by the American Cancer Society that helps cancer survivors.
Gracie's Gear and Training is offering pink and black sports bras and giving 30 percent of online sales to the Susan G. Komen Foundation.
Under Armour's Power in Pink line includes a variety of tops, bottoms and accessories all bearing the iconic pink breast cancer awareness ribbon.
DermaQuest Skin Therapy will donate $5 from the sale of each tube of Glyco Hand & Body Cream to the Breast Cancer Research Foundation this October.
eDressMe is donating 20% of proceeds for Breast Cancer Awareness month to the Susan G. Komen For the Cure.
Ten percent of the proceeds from the sale of the Amuse Me Ferris Pink nursing covers will be donated to the National Breast Cancer Foundation, Inc. from September 1, 2008-December 25th 2008.
IcyBag will donate 20% of sales of their pink/tan IcyBag (insulated and chilled cosmetic bag) to The Breast Cancer Research Foundation.
During October, Smart Mom Jewelry will donate 20% of every sale from their "Think Pink" line to the National Breast Cancer Foundation.
With a commitment to donate a full 15% of all October sales to the American Cancer Society, Neero & Ana offers a collection of beautiful pillow cases and more.
Soapourri will done 100% of the profits from their fragrant breast cancer awareness soap to the American Cancer Society.
A portion of the net proceeds from the White House Black Market's Give Hope Collection up to $200,000 will be donated to Living Beyond Breast Cancer.
La Plates offers personalized plates with style and they'll be donating a portion of all sales to breast cancer research and support organizations in October.
FiveHumans will donate 20% of proceeds from each sale of the women's cancer Threads of Bravery T-Shirt.
Every day of the year, Verikira Naturals donates 10% of each sale of the Pink Grapefruit Collection to the Susan G. Komen Breast Cancer Foundation.
Sweet Grass Farm will donate 10% of the proceeds for each sale of its Hope, Courage & Faith Fragrance Stick Set to the National Breast Cancer Foundation.
vedaPURE skincare collection will support National Breast Cancer Awareness Month by donating a portion of their proceeds from the vedaMAMA PURIFY detoxifying body cream to The National Breast Cancer Foundation.
GIELLA custom blend cosmetics introduces a Swing Compact cheek tint that through sales supports Women At Risk (WAR®), a non-profit that enhances the lives of women who are at high risk for the development of breast cancer and women with breast cancer, through research, education and support.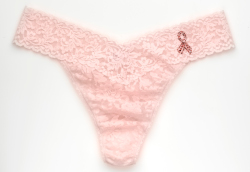 Two dollars from the sale of every Hanky Panky breast cancer awareness thong goes to the Susan G. Komen foundation. Available at Neiman Marcus and Saks Fifth Avenue stores and websites, as well as FigLeaves.com.
Kate Aspen recently launched three wedding favor designs specifically to raise breast-cancer awareness. Part of the proceeds from the sales of these items are dedicated year-round to breast cancer research nd prevention organization.
Throughout Odtober, Yves Rocher will donate $2 from its Pink Ribbon Edition Pur Desir de Pivoine hand soap to the Susan G. Komen Foundation for the Cure.
Keep shopping - on the next page you will find everything from mascara to bras and t-shirts to body cream.