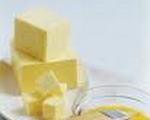 Prep: 25 min
Cook Time: 35 min
Total: 1 hr
Serving: 10
Zwiebach means "twice baked" and the result is a very crunchy, sweet cookie.
Ingredients
1 pound butter, softened
2 1/2 cups sugar
4 eggs
1 cup sour milk
2 teaspoons vanilla
1 cup nuts, finely chopped
4 cups flour
4 teaspoons baking powder
1 teaspoon baking soda
Directions
Cream butter and add sugar. Beat very well, then add eggs. Alternate sour milk with dry ingredients. Add enough flour to to make a soft dough that can be handled without sticking.
Shape into rolls about 2 inch thick and place on greased cookie sheets. Bake at 350 degrees F for 25 minutes. Remove from oven and cool for 10 minutes.
Cut into slices and place pieces back in oven to brown on both sides about 6-8 minutes.