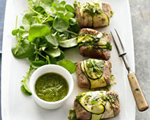 Prep: 20 min
Cook Time: 20 min
Total: 40 min
Serving: 4 Servings
An elegant dish that is perfect for entertaining; serve these zucchini wrapped bundles of pork with a side of basil pesto and a watercress salad.
Ingredients
1 small zucchini
12 to 16-ounce pork tenderloin , cut into 4 portions
Olive oil
Sea salt and freshly ground black pepper
Fresh basil to garnish
Directions
Preheat your oven to 450 degrees and line a baking pan with aluminum foil.
Sprinkle the pork with some salt and freshly ground black pepper.
Cut the zucchini lengthwise with a vegetable peeler to form 8 long strips and then wrap 2 strips around each piece of meat.
Place the wrapped pork bundles into the prepared pan, lightly brush with olive oil and then sprinkle with a few more pinches of salt and pepper.
Put the pan in the oven and cook the pork for about 20 minutes or until the internal temperature of meat registers 160 degrees. Serve immediately sprinkled with some fresh basil.