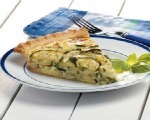 Prep: 15 min
Cook Time: 1 hr 10 min
Total: 1 hr 25 min
Serving: Serves 6 people
Zucchini quiche is a great, light meal. Fresh zucchini and goat cheese taste great together. You can use a pre-made pastry shell to save time.
Ingredients
1 cup whole-wheat flour
1 cup all-purpose flour
1/2 cup margarine, cut into pieces
2 large zucchini, sliced
1 red onion, thinly sliced
2 tablespoons olive oil
6 ounces goat cheese, broken up
2 tablespoons fresh basil, chopped
3 eggs, beaten
1-1/4 cups milk
Salt and freshly ground black pepper to taste
Directions
Preheat your oven to 400 degrees F. For the crust, use a large bowl to mix the flours together. Add the pieces of margarine and mix together with your hands until the mixture is crumbly. Add cold water to the mix, a little at a time, until a firm dough has formed.
Roll out the dough. Once rolled, line a 9-inch tart pan with it (it's best if the pan is about 1-inch deep). Prick the bottom of the dough with a fork. Chill the dough for about 30 minutes, then line it with parchment paper or foil and add dried beans on top of the paper to weigh it down.
Put the pan on top of a baking sheet, cover it and and bake it for about 20 minutes. For the last five minutes of baking, uncover the pastry. Meanwhile, add the oil to a saute pan over medium-high heat. Add the onions and cook for about 5 minutes. Add the zucchini slices to the onion and cook for another 5 minutes.
Spoon the onion and zucchini mixture into the pastry crust. Scatter all but a small amount of the cheese on top of the vegetable mixture. Add the basil on top.
In a medium-sized bowl, beat the eggs, milk and seasoning and pour it over the filling. Add the remaining cheese to the top of the mixture.
Lower the oven temperature to 350 degrees F. and cook the quiche for about 40 minutes. When the egg has risen and the center of it is firm to the touch, it should be finished. Allow it to cool slightly before slicing and serving.