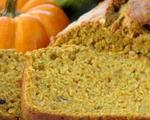 Prep: 15 min
Cook Time: 45 min
Total: 1 hr
Serving: 2 Loaves
This zucchini pumpkin bread recipe is a nice alternative to regular pumpkin bread and is even better if the zucchini comes from your own garden!
Ingredients
3 eggs, lightly beaten
2 cups sugar
1 cup canned pumpkin
1 cup butter, melted
1 tablespoon vanilla extract
3 cups all-purpose flour
1 teaspoon baking soda
1/2 teaspoon baking powder
1/2 teaspoon salt
1 teaspoon ground cinnamon
1/4 teaspoon ground nutmeg
1/2 teaspoon ground cloves
1 cup shredded zucchini
Directions
Preheat oven to 350 F. Grease and flour two 9X5 inch loaf pans.
In a mixing bowl, combine eggs and sugar. Add pumpkin, butter and vanilla. Mix well.
In a separate bowl, combine ingredients and then gradually add to pumpkin mixture; mix well. Stir in zucchini.
Pour into the two loaf pans. Bake for 45-50 minutes or until bread is golden brown and a toothpick inserted in the center comes out clean. Allow to cool in pan for 10 minutes and then remove to a wire rack.