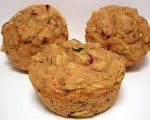 Prep: 15 min
Cook Time: 25 min
Total: 40 min
Serving: 18 muffins
Great freezable muffin, wonderful to have on hand for quick breakfasts.
Ingredients
2 eggs
1/2 cup brown sugar
1/2 cup honey
1/2 cup melted margarine
1 teaspoon vanilla
1 3/4 cups flour
1 teaspoon baking soda
1 teaspoon salt
1/2 teaspoon baking powder
1/2 teaspoon nutmeg
2 teaspoons cinnamon
1 cup rolled oats
1/2 cup chopped nuts
1/2 cup raisins
2 cups shredded zucchini
Directions
Preheat oven to 350 degrees Fahrenheit. Grease or line 18 muffin cups.
In a large bowl, beat the eggs, then add in and beat the sugar, honey, margarine and vanilla.
In a separate bowl, combine the flour, baking soda, salt, baking powder, nutmeg and cinnamon. Stir into the egg mixture until moist.
Fold in the nuts, oats, raisins and zucchini.
Spoon into the prepared cups, and bake for 25 minutes, or until a toothpick inserted in the center comes out clean.