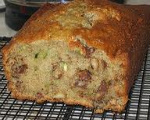 Prep: 20 min
Cook Time: 1 hr
Total: 1 hr 20 min
Serving: 2 loaves
A great double loaf recipe.
Ingredients
1 1/4 cups wheat germ
3 1/4 cup flour
3 1/4 teaspoons baking powder
1 teaspoon salt
2 teaspoons cinnamon
1 cup chopped nuts
1 3/4 cups sugar
2 eggs
2 teaspoons vanilla
2/3 cup cooking oil
3 cups grated zucchini (may use blender)
Directions
Preheat oven to 350 degrees Fahrenheit. Grease and flour 2 loaf pans.
Combine the wheat germ, flour, baking powder, cinnamon and nuts.
Beat eggs until fluffy. Beat in the sugar, vanilla and oil. Stir in the zucchini. Slowly stir in the wheat germ mixture.
Pour into the prepared pans, back for 1 hour or until toothpick inserted in the center comes out clean. Cool on rack for ten minutes.