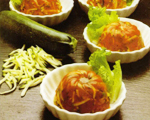 Prep: 1 hr 45 min
Cook Time: 20 min
Total: 2 hr 5 min
Serving: Serves 4
These designer-looking appetizers not only look impressive, but taste it too! The creamy and rich yogurt curry sauce makes the perfect partner for the fresh coriander and zucchini.
Ingredients
2 tablespoon fresh lemon juice
1 pound zucchini, sliced
1 onion, chopped
2 teaspoon fresh coriander leaves, chopped
4 ounces fromage blanc
salt and freshly ground black pepper to taste
1 sachet flavorless, colorless gelatin
2/3 cup Greek-style yogurt
5 tablespoon milk
1 egg yolk
1 teaspoon curry paste
Chervil or parsley sprigs to garnish
Directions
Place 2 tablespoons of water and the lemon juice in a medium-sized saucepan. Add zucchini and onions and cook over low heat for 10 minutes.
Remove from heat and cool slightly. Place zucchini mixture in a food processor, and add the coriander leaves, cheese, salt and pepper. Process until smooth then set aside to cool.
Empty the sachet of gelatin in 2 tablespoons of water in a cup. Place cup in bowl of hot water, and stir gelatin to dissolve. Add to the zucchini puree and mix well.
Place the mixture into 2/3 cup ramekin dishes. Chill mixture for 1-1/2 hours until set.
Meanwhile, in a medium-sized pan, mix the yogurt, milk, egg yolk and curry paste together and heat until heated through and slightly thickened. Do not boil. Set aside to cool.
Pour the yogurt sauce on a large serving dish, and then turn out the molds on top of the sauce. Garnish the zucchini molds with chervil or parsley sprigs.