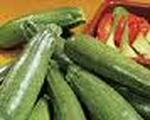 Prep: 20 min
Cook Time: 1 hr
Total: 1 hr 20 min
Serving: 16
Zucchini Cobbler is sweet and makes an unique dessert.
Ingredients
8 cups zucchini, seeded, chopped and peeled
2/3 cup lemon juice
1 cup sugar
1 teaspoon ground cinnamon
1/2 teaspoon ground nutmeg
Crust: 4 cups flour
2 cups sugar
1 1/2 cups cold butter
1 teaspoon cinnamon
Directions
In a large saucepan over medium-low heat, cook and stir zucchini and lemon juice for 15-20 minutes or until zucchini is tender. Add sugar, cinnamon and nutmeg; simmer 1 minute longer. Remove from heat; set aside.
For crust: Combine the flour and sugar in a bowl; cut in butter until the mixture resembles coarse crumbs. Stir 1/2 cup into zucchini mixture. Press half of remaining crust mixture into a greased 15 by 10 inch baking pan. Spread zucchini over top; Crumble remaining crust mixture over zucchini. Sprinkle with cinnamon. Bake at 375 degrees F for 35-40 minutes or until golden and bubbly.