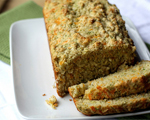 Prep: 25 min
Cook Time: 60 min
Total: 1 hr 25 min
Serving: Makes 1, 9x5-inch loaf
A great way to use leftover zucchini from your trip to the farmer's market, this bread is also wonderful toasted the following day.
Ingredients
3 cups all-purpose flour
4 teaspoons baking powder
1 teaspoon salt
1/2 teaspoon baking soda
1 cup coarsely shredded zucchini
3/4 cup shredded sharp Cheddar cheese
1/4 cup chopped scallions
3 tablespoons chopped fresh parsley
1 tablespoon fresh dill, snipped
2 large eggs
1 cup buttermilk
4 tablespoons melted butter
Directions
Preheat the oven to 350 degrees and grease a 9x5-inch loaf pan with oil or butter.
In a large bowl, mix together the flour, baking powder, salt and soda with a wire whisk.
Add the zucchini, cheese, scallions, parsley and dill to the flour mixture and toss until ingredients are coated in flour.
In another bowl, combine the eggs, buttermilk and melted butter by whisking with a fork. Pour into the flour mixture and mix just until the dry ingredients become moist. The batter will not be smooth.
Pour the batter into the prepared loaf pan and bake for 60 minutes or until a toothpick placed in the center of the loaf tests clean. Let the bread cool for 10 minutes before slicing and serving.