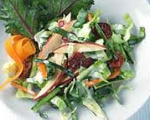 Prep: 2 hr 30 min
Cook Time: –
Total: 2 hr 30 min
Serving: 6 servings
A simple, zucchini and apple slaw.
Ingredients
4 cups coarsely shredded zucchini
1/4 cup green onions, thinly sliced diagonally
2-3 medium size red or green tart apples (unskinned)
1/2 cup mayonnaise
3 tablespoons cider vinegar
1 tablespoon sugar
1 teaspoon poppy seeds
salt and pepper to taste
Directions
Mix together the zucchini and onions.
Core and chop the apples, add to zucchini.
Mix together the mayonnaise, vinegar, sugar and poppy seeds until well blended.
Stir the dressing into the zucchini mixture until well coated. Add salt and pepper to taste. Cover and chill for 2-4 hours.