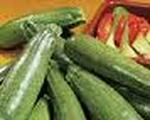 Prep: 15 min
Cook Time: 40 min
Total: 55 min
Serving: 4
Zucchini and Tomato Casserole makes a great summer side dish when the harvest is plentiful.
Ingredients
2 tablespoons butter
1/2 cup green pepper, seeded and chopped
1/4 cup onion, chopped
2 cups zucchini, sliced 1/2 inch thick
1/2 cup soft bread crumbs
1/4 cup Parmesan cheese, grated
1 teaspoon salt
dash of pepper
2 cups fresh tomato, cut into wedges
1/2 cup Cheddar cheese, shredded
Directions
Melt butter and saute green peppers and onions. Add zucchini, bread crumbs, Parmesan cheese, salt and pepper. Turn into a 1 1/2 quart covered casserole.
Bake, covered, at 375 degrees F for 20 minutes. Add tomatoes and bake 10 minutes more. Sprinkle with Cheddar and bake until melted, 10 minutes.