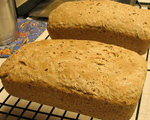 Prep: 15 min
Cook Time: 30 min
Total: 45 min
Serving: Makes 12 slices
Shredded zucchini helps this bread remain nice and moist while the addition of rice provides it with texture and a thicker, heartier consistency. Serve as a savory yet slightly sweet accompaniment to you dinner meal.
Ingredients
1-1/2 cups all-purpose flour
1 cup cooked rice
1 tablespoon baking powder
1/4 teaspoon salt
1-1/2 cups shredded zucchini (about 1-1/2 medium)
1/2 cup golden raisins
2 tablespoons dry milk
3 tablespoons frozen apple juice concentrate, thawed
1 teaspoon grated lemon peel
3 egg whites
Directions
Preheat your oven to 350 degrees, grease a round 9x1-1/2-inch pan with cooking spray or olive oil and then lightly dust with flour.
Place the flour, rice, baking powder and salt into a large bowl and mix well to combine. Add the zucchini, raisins, dry milk, apple concentrate, lemon peel and egg whites and continue to stir until the mixture is well-blended.
Transfer the batter to the prepared pan and then place in the oven for 30 minutes or until a toothpick inserted into the middle of the bread tests clean. Let the bread stand for 10 minutes prior to cutting.