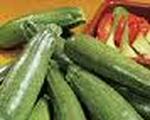 Prep: 15 min
Cook Time: 35 min
Total: 50 min
Serving: 6
Zucchini and Mozzarella Pie is made with crust of dinner rolls.
Ingredients
4 cups zucchini, unpeeled and sliced
1 cup onion, chopped
1/2 cup butter
1/2 cup parsley, chopped
1/2 teaspoon salt
1/4 teaspoon pepper
1/4 teaspoon garlic powder
1/4 teaspoon dried basil
1/4 teaspoon dried oregano
2 eggs, well beaten
1, 8 ounce package Mozzarella cheese, shredded
1, 8 ounce package Pilsbury Quick Dinner Rolls
2 teaspoons mustard
Directions
In a saucepan, cook zucchini and onions in butter until tender; about 10 minutes. Stir in parsley and seasonings.
In a large bowl, blend eggs and cheese. Stir in vegetable mixture.
Separate dinner rolls into 8 triangles. Place in a 10 inch round pie pan. Press over bottom and up sides to form crust. Spread crust with mustard and pour egg/vegetable mixture evenly into crust.
Bake at 375 degrees F for 20 minutes or until center of pie is set. Let pie sit for 10 minutes before serving.