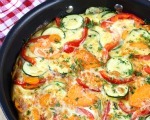 Prep: 15 min
Cook Time: 20 min
Total: 35 min
Serving: 4
Perfect for brunch or whenever you feel like having breakfast for dinner, this recipe can be prepared as a frittata or as an omelet, with a flatter fold-over shape.
Ingredients
1 1/2 cups zucchini, thinly sliced
1 cup fresh corn kernels (or one 8 oz can whole kernel corn, well drained)
1/2 cup sweet red peppers, chopped
1/4 cup onion, chopped
1/4 tsp Italian seasoning
1/8 tsp crushed red pepper
1 Tbsp water
4 large Eggland's Best eggs
1/4 cup non-fat milk
1/4 cup (1 oz) low-fat shredded cheddar cheese
Directions
In a 10-inch nonstick skillet, combine vegetables, Italian seasoning, pepper, and water. Cover and cook over medium heat, stirring occasionally until crisp-tender.
Thoroughly blend eggs and milk. Pour over vegetables. Cook over low heat until eggs are almost set. Sprinkle with cheese. Broil about six inches from heat until cheese is melted.
Cut into wedges and serve from pan or slide from pan onto serving platter.