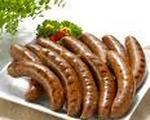 Prep: 1 hr 15 min
Cook Time: 45 min
Total: 2 hr
Serving: 6
Zia Maria is a savory blend of Italian sausage, potatoes and bell pepper. A great addition to a buffet table.
Ingredients
2 pounds mild or hot Italian sausage
8 peppers, red and green, cut in 1 inch strips
1 tablespoon oregano
1 tablespoon dry basil
1 tablespoon garlic powder
1 teaspoon salt
black pepper to taste
2 tablespoon olive oil
8 medium red potatoes, slice 1/4 inch thick
1 large onion, peeled and sliced
Parmesan cheese, grated
Directions
Pierce sausage casing in several places. Cook in large skillet until browned on all sides. Slice in 3/4 inch slices. Set aside.
In same skillet, cook peppers until soft, about 8 minutes. Season with oregano, basil, salt, garlic powder and pepper.
Heat olive oil in another skillet. Add potatoes and onions; cover and cook gently until potatoes are soft, about 10 minutes. Mix sausage, peppers and potato mixture well. Transfer to a casserole dish. Serve with cheese.