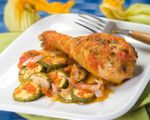 Prep: 30 min
Cook Time: 2 hr
Total: 2 hr 30 min
Serving: 4 People
The fragrant aroma of this lemon chicken dish will warm you right up on a cold winter's day.
Ingredients
3-4 pound whole chicken
juice of 6 squeezed lemons
2 cloves of garlic minced
6 onions sliced
2 red peppers seeded and sliced or 1/2 teaspoon cayenne pepper
6 tablespoons olive oil
1 bay leaf
Salt and pepper to taste
Directions
Rinse and dry chicken. Cut into pieces.
Mix lemon juice, onions, garlic and 3 tablespoons of the olive oil in a large bowl or ceramic casserole dish.
Add chicken pieces and turn to coat. Marinate for 2-3 hours in the refrigerator. Turn occasionally.
In a large skillet heat 2 tablespoons of olive oil. Remove chicken from the marinade and brown in hot oil until brown on all sides.
Strain the marinade and remove the onions and garlic. Save the liquid.
Saute the onions and garlic in 1 tablespoon of olive oil until soft.
Add chicken, bay leaf, red peppers or cayenne, salt and pepper and enough of the marinade liquid to keep the chicken moist.
Simmer until chicken is tender about 1-11/2 hours.
Serve over white or brown rice.