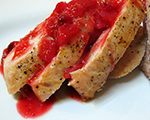 Prep: 10 min
Cook Time: 30 min
Total: 40 min
Serving: 5 Servings
Juicy pieces of turkey are smothered with a zesty cranberry sauce in this simple yet delicious dish.
Ingredients
2 tablespoons butter
2 teaspoons finely chopped fresh garlic
2 (about 10 ounces each) turkey breast tenderloins
3/4 cup whole berry cranberry sauce
1/4 cup chopped fresh cilantro
2 green onions, sliced
1 jalapeño pepper, seeded, chopped
Directions
Place the butter in a medium-sized sauté pan over medium heat. Once sizzling, add the garlic and sauté for 1 minute, stirring occasionally.
Add the tenderloins to the pan and cook for about 3-1/2 minutes per side until lightly browned. Cover the pan and continue to cook, turning once, for an additional 12 minutes.
Remove the turkey tenderloins and set aside. Add the cranberry sauce, cilantro, onion and jalapeno to the pan and stir to combine.
Bring the mixture to a boil over medium-high heat, cook for 30 seconds, and then spoon over the turkey tenderloins. Serve immediately.