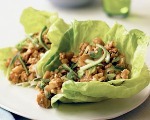 Prep: 15 min
Cook Time: 20 min
Total: 35 min
Serving: Serves 4 people
Tasty any time of year but perfect to help celebrate the Chinese New Year, Zesty Chicken Lettuce Wraps are a crowd pleaser.
Ingredients
1 head of iceberg lettuce
1 tablespoon soy sauce
2 tablespoons oyster sauce
1 tablespoon dry sherry
1 tablespoon sesame oil
1 teaspoon fresh ginger, minced
1 garlic clove, minced
2 green onions, chopped
1 pound chicken breast, minced
1 red pepper, seeded & diced
1 small can water chestnuts, rinsed & chopped
1 stalk of celery, diced
1 teaspoon cornstarch mixed with 2 tablespoons water
Directions
Wash and dry the lettuce. Separate the leaves and set aside.
In a small bowl, whisk together the soy sauce, oyster sauce, sherry and sugar. Using a large saute pan, heat the sesame oil over high heat. Add the garlic, ginger and green onions to the pan and cook until the ginger is fragrant. Add the chicken and cook until it is browned. Remove the chicken from the pan and set aside.
To the saute pan add the red pepper, water chestnuts and celery. Add the sauce to the vegetables and cook over medium heat. Add the cornstarch/water mix to the sauce, and stir it to thicken the sauce. Add the chicken back to the pan. Cook until the chicken is heated through (about 3 minutes).
To serve, place the lettuce leaves on a serving platter. Add a few heaping tablespoons of the mixture to the middle of each leaf. Guests can "roll" their leaves like a taco to eat.