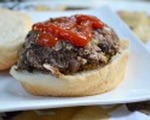 Prep: 15 min
Cook Time: 20 min
Total: 35 min
Serving: 4 People
Black beans are one of those ingredients that are often overlooked and underused, especially when it comes to main dishes. These beans often serve as sides in Mexican restaurants and sometimes featured in chilis. Instead of eating a bowl of these southwestern beans, make them a meal by serving up this zesty black bean burger! Made with fresh veggies, dried herbs and some spice, these burgers are healthy, low-fat, and absolutely delicious.
Ingredients
15 ounce can of black beans, drained and rinsed
1/2 yellow pepper, finely chopped
1/2 medium onion, finely diced
1 tablespoon crushed red pepper
1 teaspoon chili powder
Salt and pepper
1 egg
3/4 cup bread crumbs
Hamburger buns
Directions
Preheat oven to 375 degrees. Grease a baking sheet with olive oil cooking spray.
Pour beans into a bowl and mash with a fork until fully mashed. (Or place in a food processor and pulse). Mix in onions, pepper and spices. Add in egg and bread crumbs and mix until fully combined. If still sticky, add additional bread crumbs.
Form mixture into four patties and place on greased cookie sheet. Bake for 10 minutes on each side.