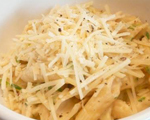 Prep: 15 min
Cook Time: 10 min
Total: 25 min
Serving: 4 Servings
An extremely light and fresh pasta dish with clean tastes and flavorful ingredients, the yogurt in this dish omits the need for heavy and fattening cream.
Ingredients
1 pound pasta of your choice
4 medium zucchini (about 1-1/2 pounds), coarsely shredded
4 tablespoons unsalted butter
1 cup plain whole-milk Greek yogurt
1 cup freshly grated Parmigiano-Reggiano cheese, plus more for serving
Freshly grated nutmeg
Sea salt and freshly ground pepper
Directions
Cook the pasta al dente according to the directions on package, placing shredded zucchini into the pot 1 minute before pasta is ready.
Drain both the pasta and the zucchini, saving 1/4 cup of the hot cooking liquid.
In the meantime, melt the butter in a large sauté pan over medium heat. Once melted, remove the pan from the heat and add the Greek yogurt, 1 cup of grated Parmigiano-Reggiano, the freshly grated nutmeg, salt and pepper. Mix to blend and check seasoning.
Place the pasta, zucchini and the 1/4 cup reserved cooking liquid into the sauté pan and toss to coat. Serve the pasta with additional freshly grated Parmigiano-Reggiano cheese.