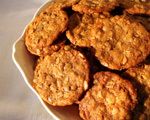 Prep: 20 min
Cook Time: 19 min
Total: 39 min
Serving: 3 Dozen
Who knew cookies could be so nutritious? Packed with healthy granola and the added benefits of probiotic yogurt, you'll be snacking on tons of nutrients and tummy-satisfying ingredients!
Ingredients
½ cups Dannon Activia Vanilla Yogurt
½ cup granulated sugar
½ cup packed brown sugar
¼ cup butter, softened
¼ cup vegetable shortening
2 teaspoons vanilla extract
1 teaspoon cinnamon
1¾ cups all-purpose flour
½ teaspoon baking soda
½ teaspoon salt
2 cups granola
½ cup coarsely chopped walnuts
Directions
Heat oven to 375° F. In large mixing bowl, set with whisk attachment, combine Activia yogurt, sugars, butter, shortening and vanilla extract. Beat at medium speed until well blended. Add flour, baking soda, salt, and cinnamon. Beat at low speed until dough forms. Stir in granola and walnuts. Drop dough by rounded teaspoons 2 inches apart onto cookie sheets. Bake for 8-10 minutes, or until lightly golden.