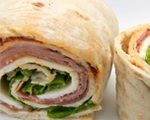 Prep: –
Cook Time: –
Total: –
Serving:
If your kids tote a lunch to school, it's likely they'll be complaining about their brown bag offerings before the first week of school ends. It doesn't take long for most kids to tire of the same old lunchtime snacks – white bread, a bit of meat, a smear of mayo. No wonder they become quickly uninspired by the usual. The usual is usually bland, boring, and basic.
Any sandwich can go from blah to hurrah when wrapped in a tortilla and sliced into pretty pinwheels.
Ingredients
Flour tortillas
Veggie cream cheese
Sliced lunchmeat (turkey, ham, bologna, etc.)
Shredded carrots
Fresh spinach leaves
Directions
To make a sandwich wrap most kids will adore, spread a tablespoon of veggie cream cheese on a small tortilla, place a slice of turkey, some shredded carrots, and a couple leaves of fresh spinach in the center of the tortilla. Roll up tightly, then slice into 1-inch pieces.