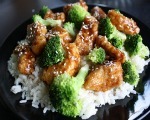 Prep: 10 min
Cook Time: 35 min
Total: 45 min
Serving: Serves 4 people
This is a mouth-watering, easy meal! Wok Fried Orange Chicken & Broccoli tastes like take out without the hassle.
Ingredients
12 ounces skinless, boneless chicken breasts cut into 1-inch pieces
3 cups broccoli, sliced
2 cups hot cooked white or brown rice
1 tablespoon tamari or reduced-sodium soy sauce
2 tablespoons vegetable oil
1 tablespoon dry sherry
1 teaspoon grated ginger root
1 cup orange juice
1 tablespoon cornstarch
1 medium onion, sliced
Orange slices, halved, for garnish
2 tablespoons toasted sesame seeds, for garnish
Directions
First, in a medium-sized bowl (or in a large plastic baggie), mix your chicken marinade by combining the tamari or soy sauce, sherry and ginger root. Add the chicken pieces and stir well to coat. Cover and refrigerate for about 30 minutes. When finished, drain the chicken and reserve the marinade. In a small mixing bowl, add the marinade, orange juice and cornstarch and set aside.
Add 1 tablespoon vegetable oil to the wok (or large skillet) over medium-high heat. Add the broccoli and onion. Stir fry for about 3 minutes (or until the broccoli is crisp-tender). Remove from the wok. Add another 1 tablespoon vegetable oil to the wok. Add the chicken and stir fry for about 3 minutes (until the chicken is no longer pink). Move chicken to one side of the wok.
Stir the sauce to the wok. Cook, stirring constantly, until thick and bubbly. Stir the broccoli mix and the chicken into the sauce. Cook for about 2 minutes (or until everything is heated through).
In a small pan over medium-high heat, add the sesame seeds. Cook, stirring, until the seeds are slightly toasted (about 1 minute). Be sure not to toast too long.
Serve over rice and garnish with the oranges and toasted sesame seeds.