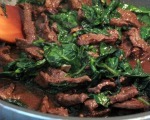 Prep: 25 min
Cook Time: 15 min
Total: 40 min
Serving: Serves 4 people
Paired with brown rice and a fruit salad, Wok-fried Beef with Spinach makes a great dinner for any night of the week.
Ingredients
1 pound lean steak, cut into strips
1 pound of spinach, leaves removed and shredded
2 tablespoons of oil
2 teaspoons of grated fresh ginger
2 cloves garlic, crushed
3 teaspoons of corn flour
1 cup of water
2 tablespoons satay sauce
2 tablespoons of dry sherry
1 tablespoon soy sauce
2 ounces cashews, roasted
Directions
Using a wok (or frying pan if you don't have a wok), heat oil on medium-high. Add steak and stir fry for 3-4 minutes or until the beef is browned. Remove the beef from the pan and pat dry on paper towels.
To the wok, add the spinach, ginger and garlic and stir fry until the spinach starts to wilt. In a small bowl, whisk together the corn flour, water, satay sauce, sherry and soy sauce. Add the sauce to the spinach and cook until the mixture boils and thickens (about 2 minutes).
Return the beef to the wok, add the cashews and cook until the beef is heated through (about 2-3 minutes). Serve warm on top of brown rice.