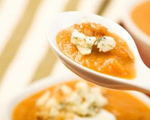 Prep: 10 min
Cook Time: 25 min
Total: 35 min
Serving: 4 Servings
This is not your traditional chili recipe, but it is just as hearty, rich and delicious. Serve garnished with fresh sage and crumbled goat cheese.
Ingredients
1 pound bulk sage sausage
1 15-ounce can cannellini beans, drained
1 12-ounce package frozen winter squash puree, thawed
1 cup chunky-style chipotle salsa
1-1/2 cups water
1 3.5-ounce package herb-flavored goat cheese, crumbled
Fresh Sage to garnish
Directions
Place the sausage in a large saucepan and brown over medium heat until no longer pink.
Break the sausage up into pieces and then tilt the pan and remove the fat.
Add the beans, squash, salsa, and water and bring the mixture to a boil.
Once boiling, reduce heat to medium-low and simmer the mixture for 10 minutes, stirring frequently.
Serve hot topped with the goat cheese and the fresh sage.