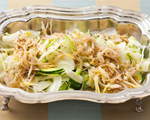 Prep: 15 min
Cook Time: –
Total: 15 min
Serving: Makes 12 Servings
A perfect contrasting dish to pair with a rich and hearty main course meal, this crisp and fresh winter salad is made with a combination of fennel, celery, English hothouse cucumbers and shallots.
Ingredients
1 garlic clove, minced
1 teaspoon salt
6 tablespoons unseasoned rice vinegar
1-1/2 tablespoons whole grain mustard
1-1/2 teaspoons sugar
7 tablespoons olive oil
2 medium shallots, halved lengthwise and very thinly sliced
3 (3/4- to 1-pound) fennel bulbs, tough outer layers and fronds discarded, halved lengthwise and very thinly sliced
6 celery stalks, very thinly sliced crosswise diagonally
2 (1 pound) English (hothouse) cucumbers, scrubbed well and unpeeled, halved lengthwise and very thinly sliced crosswise diagonally
Directions
Put the shallots, fennel, celery and cucumbers into a salad bowl and set aside.
Place the garlic into a bowl and sprinkle with 1 teaspoon of salt. Mash the mixture to form a paste and then add the vinegar, mustard, and sugar.
Whisk the mixture vigorously until all of the sugar and salt have completely dissolved, then slowly pour in the oil continuing to whisk until thoroughly blended.
Add the shallots, stir to combine and then drizzle the vinaigrette over the vegetables. Toss well to coat and then serve.