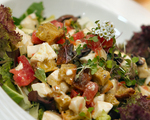 Prep: –
Cook Time: –
Total: –
Serving: Makes 6 to 8 servings
Panzanella sings its best flavors with ripe tomatoes and fresh basil, bringing an early taste of the warm months just waiting around the corner.
Ingredients
3 bunches beets, peeled and quartered
3 shallots, peeled and quartered
2 sprigs fresh oregano
2 sprigs fresh thyme
2 sprigs fresh marjoram
Salt and pepper
7 tablespoons extra virgin olive oil
1/2 loaf crusty bread, cubed
1/2 blood orange, juiced
2 tablespoons balsamic vinegar
1/4 cup honey
1/2 lemon, juiced
1/4 cup sliced dates
1 bunch arugula
4 ounces goat cheese, crumbled
Directions
Preheat oven to 400 degrees F. Place beets and shallots on a piece of tin foil and sprinkle with oregano, thyme, marjoram, salt and pepper. Drizzle with 1-1/2 tablespoons of oil and gently toss. Fold foil around vegetables, place on a baking sheet, and roast in oven for 1 hour and 30 minutes or until vegetables are tender.
Spread bread cubes on a baking sheet and toss with 1-1/2 tablespoons of oil. Season with salt and pepper. Bake in oven for 5 to 10 minutes or until crispy. Remove from oven and reserve.
Meanwhile, whisk orange juice, vinegar, 4 tablespoons olive oil, honey, lemon juice, salt and pepper. Combine croutons, vegetables, arugula, and dates in a bowl. Drizzle with orange juice mixture, gently toss. Sprinkle goat cheese on top.