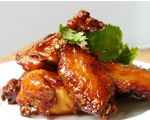 Prep: 3 hr
Cook Time: 40 min
Total: 3 hr 40 min
Serving: Serves 4
Most people have had typical BBQ wings with a sticky southern barbeque sauce at least once. How about trying something new instead with these Asian-inspired wings served with a sweet and tangy fish sauce and topped with fried garlic, cilantro and mint. They're simply delicious!
Ingredients
1/2 cup Asian fish sauce
1/2 cup superfine sugar
4 garlic cloves, 2 crushed and 2 minced
3 pounds chicken wings, split at the drumettes
2 tablespoons vegetable oil, plus more for frying
1 cup cornstarch
1 tablespoon chopped cilantro
1 tablespoon chopped mint
Directions
In a large bowl, mix the fish sauce, sugar and crushed garlic with a wire whisk. Put in the wings and thoroughly coat with the fish sauce mixture. Marinate the wings in the refrigerator for at least 3 hours.
In a small sauté pan, heat 2 tablespoons of the olive oil on medium heat and fry the garlic until golden and fragrant.
Remove the wings from the marinade and blot them dry with a paper towel; set the wings aside reserving the marinade.
Heat 2 inches of oil in a deep frying pan. Put the cornstarch in a small bowl and then add the wings, coating on all sides. Fry the wings in small batches for about 10 minutes and then drain on paper towels. Place the wings on a serving platter.
Place the reserved marinade in a small saucepan and simmer over moderate heat until mixture becomes a sticky syrup. Pour over the wings and then sprinkle with cilantro, mint and the fried garlic. Serve immediately.