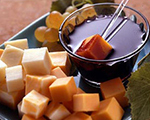 Prep: 40 min
Cook Time: 30 min
Total: 1 hr 10 min
Serving: 1 cup
Fondue parties have gained popularity because they are simple and delicious accompaniments to wine and cocktails.
Ingredients
2 cups full-bodied red wine (Zinfandel, Barolo or Cabernet Sauvignon)
1 cup sugar
4 teaspoons dry fruit pectin
Directions
Place the wine and the sugar into a small sauté pan and place over medium-high heat until the mixture begins to boil.
Once boiling, reduce the heat to medium and cook for 25 minutes, stirring occasionally to prevent sticking.
Add the pectin and stir to combine. Cook the mixture for an additional minute and then remove from heat, cool and transfer to a dipping bowl.
Serve with cubes of cheese and bread.