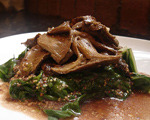 Prep: 10 min
Cook Time: 10 min
Total: 20 min
Serving: 6 Servings
Use the mushrooms of your choice for this simple vegetarian side dish. Serve with roasted poultry or beef as an earthy-flavored and elegant accompaniment.
Ingredients
1/4 cup chopped onion
2 cloves garlic, minced
3-1/2 cups sliced mushrooms
1/4 cup dry white wine
1 tablespoon tomato paste
5 cups chopped spinach
1/4 cup chopped green onions
1/4 cup chopped fresh parsley
2 tablespoons fresh lemon juice
Salt and freshly ground pepper
1-1/2 tablespoons olive oil
Directions
Place the olive oil into a large sauté pan over medium high heat. Once it begins to shimmer, add the onion, garlic and broth and cook for 3 minutes, stirring frequently.
Add the mushrooms, wine and tomato paste to the mixture, stir to combine and then cook for 3 additional minutes before adding the spinach, green onions and the parsley. Sprinkle the mixture with a few generous pinches of salt and pepper, and then cook for 2 minutes until the spinach is wilted. Serve immediately.