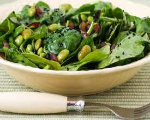 Prep: 10 min
Cook Time: 10 min
Total: 20 min
Serving: 4 servings
Ham, salad and gravy recipe.
Ingredients
1 bunch leaf lettuce
1 bunch mustard greens
6 green onions
1/2 cup white vinegar
4 ham steaks
2 tablespoons shortening
1 teaspoon sugar
1/4 cup water
1 1/2 teaspoons salt
Directions
Cut the lettuce, greens and onions, and toss in a bowl. Refrigerate until ready to serve.
In a heavy skillet, heat the shortening and lightly brown the ham on both sides. Remove the ham, place the drippings into a gravy bowl.
Heat the meat residue with the sugar until browned. Mix in the water, boil for 30 seconds. Add to the gravy bowl.
Top each salad serving with 2 tablespoons vinegar and 2 tablespoons gravy.