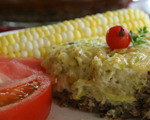 Prep: 30 min
Cook Time: 1 hr 15 min
Total: 1 hr 45 min
Serving: 1, 10-inch pie
This tart, made from a delcious combination of wild rice, zucchini, leek and chèvre cheese, is an elegant option to serve for a brunch or a bridal shower along with glasses of Sauvignon Blanc.
Ingredients
1/3 cup grated Parmesan cheese
1 large egg
3 tablespoons butter, melted plus extra to grease pie plate
2 tablespoons freshly squeezed lemon juice
2 1/2 cups cooked wild rice
1/4 teaspoon salt
1/4 teaspoon freshly ground black pepper
2 cups thinly sliced leeks
1/2 cup butter
2 cups coarsely shredded zucchini
1-1/2 cups heavy whipping cream
4 large eggs
1 cup crumbled chèvre cheese
1 tablespoon chopped fresh marjoram or 1 teaspoon dried marjoram
1 teaspoon Dijon mustard
1/4 teaspoon salt
1/4 teaspoon freshly ground black pepper
Directions
Preheat your oven to 350 degrees and lightly grease a 10-inch pie plate.
Place the Parmesan cheese, 1 egg, 3 tablespoons melted butter and lemon juice into a large bowl and mix well to combine. Add the rice, salt and pepper, stir once again and then transfer to the prepared pie plate, bringing the mixture up and along the sides of the plate.
Bake the crust for 15 minutes and then remove from the oven and set aside to cool.
In the meantime, place the 1/2 cup of butter into a large sauté pan over medium heat and then add the leeks. Sauté for 3 minutes and then stir in the zucchini. Remove the pan from the heat.
Place the whipping cream and the remaining ingredients into a large bowl and vigorously whisk the mixture until thoroughly combined. Add the leek mixture to the bowl, stir to combine and then transfer the mixture to the prepared crust.
Bake the tart for 45 minutes, or until the filling is slightly firm and golden. Remove the tart and let stand for 15 minutes prior to serving.