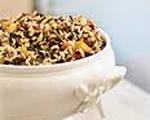 Prep: –
Cook Time: 45 min
Total: 45 min
Serving: 8 People
Rich in complex carbohydrates and fiber, wild rice is also a good source of B vitamins, manganese, selenium, magnesium, and tryptophan. Dried cherries and pomegranate seeds are superstars in this holiday side dish, providing a healthy dose of disease fighting antioxidants and phytonutrients with anti-inflammatory properties.
Ingredients
1 cup wild rice
3 cups chicken or vegetable broth
1/2 cup dried cherries
1 teaspoon rubbed sage
1/2 teaspoon dried thyme
1 tablespoon olive oil
1 small onion, finely diced
1 cup finely diced celery
1/2 cup pomegranate seeds
2 cloves garlic, minced
Juice of half a lemon
Black pepper to taste
Directions
In a large pot, bring rice and broth to a boil; reduce heat, cover and simmer for 45 minutes, or until rice is tender and broth is absorbed. Transfer rice to a large bowl and add cherries, sage, and thyme; set aside.
Meanwhile, heat olive oil in a large skillet over medium-high heat and cook onions and celery, stirring often, until vegetables are soft and golden; add garlic and cook, stirring, for 1 minute.
Add onion mixture, pomegranate seeds, lemon juice, and black pepper to rice and toss to combine. Serve warm.
Note: If you stuff and cook your turkey – as opposed to cooking stuffing and turkey separately – omit the pomegranate seeds while turkey cooks and use them as garnish when dinner is served. Pomegranate seeds tend to lose their beautiful color when exposed to heat.