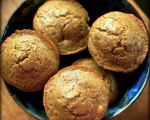 Prep: 10 min
Cook Time: 18 min
Total: 28 min
Serving: Makes 12 muffins
Brown rice, otherwise known as 'hulled rice,' has a nuttier flavor and chewier consistency than white rice. It is also considerably more nutritious so try to use it instead of the over-processed white variety.
Ingredients
1 cup milk
1/4 cup vegetable oil
1 teaspoon natural maple flavoring
2 egg whites
1-1/2 cups cooked wild rice
2 cups whole wheat flour
1/4 cup packed brown sugar
3 teaspoons baking powder
1/2 teaspoon salt
1/4 teaspoon ground cinnamon
1/4 cup chopped nuts
Directions
Preheat your oven to 400 degrees and grease a muffin tin with cooking spray.
Place the milk, oil, maple flavoring and egg whites into a large bowl and beat well until blended. Add the wild rice, stir well to combine, and then add the flour, sugar, baking powder, salt and cinnamon and mix until batter is just moistened.
Fold in the nuts and then spoon the batter into the prepared muffin tins; place into the oven for 18 minutes to bake. Remove the muffins immediately from the pan and place on a wired rack to cool.