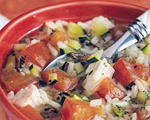 Prep: 10 min
Cook Time: 15 min
Total: 25 min
Serving: 6 Servings
This hearty soup is made with a combination of wild rice, chicken, tomatoes and zucchini, and then flavored with garlic, Madiera wine and freshly ground black pepper. Serve with thick slices of crusty peasant bread to soak up all the tasty broth.
Ingredients
1 6.2-ounce package quick-cooking plain long grain and wild rice mix
2 14-ounce cans reduced-sodium chicken broth
1 tablespoon snipped fresh thyme
4 cloves garlic, minced
4 cups chopped tomatoes
1 9-ounce package frozen chopped cooked chicken breast
1 cup finely chopped zucchini
1/4 teaspoon freshly ground black pepper
1 tablespoon Madeira wine
Directions
Cook the rice according to package directions.
In the meantime, place the broth and garlic into a soup pot and bring to a boil. Once boiling, add the tomatoes, chicken, zucchini, pepper and fresh thyme, stir well to combine and then return to a boil. Cook the mixture, covered, for 6 minutes and then add the prepared rice.
Stir the soup well to combine and then add the Madeira wine; serve immediately.