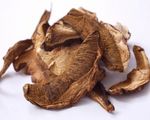 Prep: 40 min
Cook Time: 20 min
Total: 1 hr
Serving: 24
Tasty tidbits from Campbell's Kitchen
Ingredients
1 pkg. (9.5 ounces) Pepperidge Farm® Mini Puff Pastry Shells
2 tbsp. butter
1 clove garlic, minced
8 oz. assorted wild mushrooms (portobello, shiitake and/or cremini), finely chopped (about 2 1/4 cups)
1/2 tsp. dried thyme leaves, crushed
1 cup heavy cream
1/4 tsp. freshly ground black pepper
3 tbsp. chopped fresh parsley
Directions
Bake, cool and remove the "tops" of the shells according to the package directions.
Heat the butter in a 10-inch skillet over medium heat. Add the garlic and cook for 30 seconds. Add the mushrooms and thyme to the skillet. Cook for 5 minutes or until the mushrooms are tender and the liquid evaporates, stirring often.
Stir the cream and black pepper in the skillet and heat to a boil. Reduce the heat to low. Cook for 10 minutes or until the mushroom mixture thickens. Remove the skillet from the heat and let stand 10 minutes.
Spoon about 2 teaspoons mushroom mixture into each pastry shell. Sprinkle with the parsley. Serve warm.
Make Ahead Tip: Place refrigerated filled pastries on a baking sheet. Bake at 350°F. for about 5 minutes or until they're warm.